In this article, Lorraine Emmett addresses the most commonly asked questions about B2B PR; what it is, what it's for, how PR adds value and how to evaluate whether it's doing a good job.
What is Public Relations (PR)?
PR is the pro-active management of your reputation.  It's the management of your communication process, intended to create positive perceptions amongst your target audience and customers. This is so that people think and speak positively about your business. Familiarity is not enough – PR puts your brand front of mind.
PR delivers brands with independent validation; you cannot put a value on third party endorsement in terms of credibility.
Why does your company need PR?
Your reputation is the sum of everything you say and everything you do, added to everything that is said or written about you – by anyone. Your reputation exists but it's up to you whether you choose to nurture it or not. PR Companies help you manage your company's reputation and build a positive relationship with your internal and external stakeholders.
What does a PR Company do?
Businesses can manage public relations in-house, but there are clear advantages to outsourcing your PR and many successful brands do.
PR consultancies use their media network and writing skills to build understanding and interest in your brand through storytelling and thought leadership.  Organisations that recognise their reputation has currency will proactively manage it.  They understand a positive perception will pay dividends in terms of goodwill, loyal customers, committed workforce etc.  Reputation management will be done through public relations initiatives designed to influence and persuade people on the merit of their brand. This is PR. This is what a PR company can do for you.
The Public Relations trade body, the Chartered Institute of Public Relations can provide you with further insight.
What can a PR company help you achieve?
There are three main ways a PR company can help your business all of which underpin
Visibility – a strong content and editorial plan will ensure that your brand is visible in the right media and can be easily found with high digital currency
Value – by serving the most compelling messaging to the appropriate audiences your PR consultancy will help you to build familiarity and trust amongst your target audience

Understanding

– your PR company will show you how to present your brand message in a relevant and compelling way to stimulate demand.
Where does B2B PR fit in? B2B PR versus B2C PR
B2B PR is a specialism within PR which helps organisations to sell their products and services to other organisations, not the general public. Practitioners of B2B PR work with B2B marketers to manage their reputations to make their organisations visible, valued and understood.
B2C PR is the practice of managing the reputations of brands which sell their products and services to the general public.
What other PR specialisms are there?
There are a number of different specialties within the PR profession including B2B PR (business-to-business); corporate communications, consumer PR, public affairs & lobbying, financial PR, tech PR, analyst relations, social media and internal communications, to name a few.
ec-pr specialises in technology B2B PR and corporate communications. We are experienced in delivering public affairs projects and internal communications programmes, with a deep market knowledge of the technology sectors: cybersecurity, defence, science, energy, maritime, and transport.
People who work in B2B PR consultancies need to be able to understand the prevailing issues, empathise with the impact of those issues and communicate clearly and with commitment with interested parties, both verbally and in writing.
What services are in the B2B PR Toolkit?
The tools PR companies use to manage their reputations are extensive and include:
Analyst relations
Blogging
Crisis Comms
Infographics
News releases
Media relations
Media training
Press interviews & events
Social engagement
Thought Leadership
White papers
You can find more definitions of PR below.
What should you expect from your B2B Public Relations company?
A clear plan: it's important to know what your agency is doing to help you achieve your requirements. A clearly structured methodology which gets you from where you are now to where you want to go is essential to ensure time and money is not wasted.
Proactive engagement: the success of the relationships will depend on your ability to flex together and respond promptly to opportunities.
Ideation: your PR agency should have a proven approach for generating strategically aligned ideas for articles, campaigns and thought leadership. Creativity is at the heart of effective PR.
Impeccable writing and communication skills: PR is all about managing perceptions to further your brand.
Inquisitive and engaging attitude: your relationship will only succeed if there is mutual respect and enthusiasm for the personalities and tasks involved.
What should your B2B PR company deliver and how do you know if it's doing a good job?
Process: Your PR agency should be regularly reporting and updating you on their achievements against the agreed PR objectives.
Goals: Meeting and or exceeding the objectives set and highlighting key learnings or how to improve the campaign activities should be an ongoing B2B PR activity.
Ideation: Your PR team will be habitually developing new ideas, themes, and initiatives to progress the brand awareness and achievements of your B2B PR goals.
Starstruck: Delivering outstanding pieces of coverage in a pinnacle target publication at regular intervals will be something your PR counsel does consistently.
Impact: quantity of coverage is not an indicator of effort or activity, but your B2B PR agency should be securing press coverage in target press regularly.
Thought leadership: quality of coverage is as important as quantity, authored articles in pinnacle press is invaluable and something your PR advisors will be expert at achieving.
Expert engagement: Your PR delivery team should be experienced and engaged so that you benefit from their wisdom and experience, not the other way round.
Media network: your B2B PR agency should have a strong network and in depth knowledge of the way the media work in your sector and how to secure press coverage to be able to regularly design, pitch and secure placement on your behalf.
How can you tell if your PR partnership is on a road of continuous improvement or on a path of terminal decline?
Press coverage issues can be resolved with an engaged and well-led team, however indicators of a relationship in decline will revolve around passion and professionalism: they don't appear to love you anymore and their behaviour shows it:
Reporting becomes haphazard and inconsistent
Ideas are uninspired and uninspiring
Communication is infrequent and rarely proactive.
How is PR different from Advertising?
The key difference between PR and advertising, whether B2B PR or B2C PR, is that advertising space is paid for while editorial space is not. While you pay for the PR Agency's time, there is no guarantee that coverage will appear – it is down to the editor to decide whether the material is likely to add value to the media channel (magazine, programme or blog) or not.
On the flip side, readers will appreciate that editorial content may have a greater value having been vetted by a professional journalist, rather than a paid-for advertisement.
You can read about this in more detail in this blog,  7 ways PR differs from advertising
What are the benefits of outsourcing your PR?
To work out if your business would benefit from an outsourced PR partner we've listed several benefits below, and a useful blog: Nine Questions Every Marketing Manager Should Ask Before Hiring A PR Agency
No recruitment fees – the PR team is already in place
Speed to excellence – no interviewing, inducting, learning the ropes
Value for money – access to a team of senior PR people that you couldn't afford to employ on a full-time basis
24/7 availability – no holiday down time
Perspective – PR firms can see the wood from the trees and can provide impartial, objective advice
All the writing expertise plus implementation and delivery skills readily accessible
PR Agencies have an established and powerful network of press contacts which they can open up to you, why start the process from scratch
What other definitions of PR are there?
PR or Public Relations means different things to different people. You might find it interesting to consider these definitions of PR, from respected organisations and institutions:
1. PRCA – The PRCA is the world's largest PR professional body:
"Public Relations, or 'PR', is all about the way organisations communicate with the public, promote themselves, and build a positive reputation and public image. The way an organisation is represented in the media has a huge impact on how people perceive it. PR professionals try to influence the media to represent their organisation positively and communicate key messages."
https://www.prca.org.uk/careers/what-is-pr
2. BBC – The British public service broadcaster:
"Public Relations (PR) is a promotional technique used to gain media coverage. It is free and is generated through:
● Events
● Activities
● news-worthy stories"
https://www.bbc.co.uk/bitesize/guides/zj4c7nb/revision/4
3. Hubspot – the inbound marketing platform:
"Public Relations professionals help a business or individual cultivate a positive reputation with the public through various unpaid or earned communications, including traditional media, social media and in-person engagements. They also help clients defend their reputation during a crisis that threatens their credibility."
https://blog.hubspot.com/marketing/public-relations-definition
4. Wikipedia – the online encyclopaedia:
"Public relations (PR) is the practice of deliberately managing the release and spread of information between an individual or an organization (such as a business, government agency, or a non-profit organization) and the public."
https://en.wikipedia.org/wiki/Public_relations
5. CIPR – the Chartered Institute of Public Relations:
"Public Relations is the discipline which looks after reputation, with the aim of earning understanding and support and influencing opinion and behaviour. It is the planned and sustained effort to establish and maintain goodwill and mutual understanding between an organisation and its publics."
https://cipr.co.uk/

At ec-pr we are passionate about b2b communication. We believe your work is amazing and we want to help you tell the world how extraordinary it is.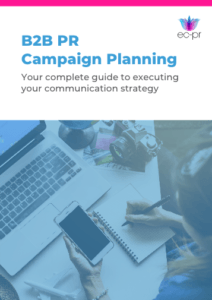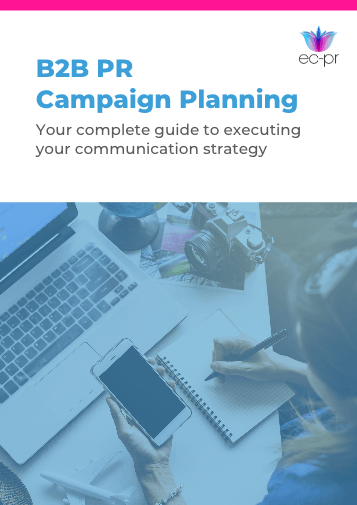 Your complete Guide to B2B PR Campaign Planning
Including example PR campaigns, content calendar templates, and audit checklists.
Stay up to date with the latest insights, case studies, and PR guides.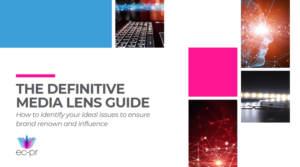 Your definitive media lens guide
This PR guide provides a framework for B2B businesses to identify their sphere of maximum potential influence.
Being in the right place at the right time… We will deliver feature length coverage to your target press… or your money back.
Follow us and share this: