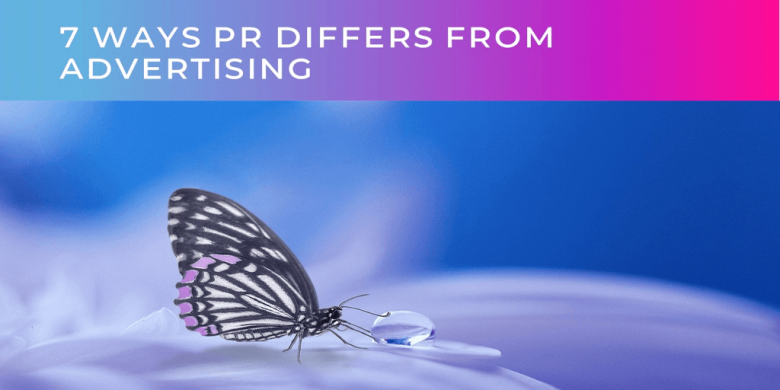 7 ways PR differs from advertising
The key
difference between PR and advertising
is that advertising space is paid for while editorial space is not – the impact on how and why you use one over the other is rooted in this fundamental difference. There are 7 principle ways that PR is different to advertising. We take a closer look at these here:
1. Credibility:
Paying for space either in the form of advertising or advertorials has a direct impact on your credibility in the mind of the target audience. If your marketing message has clearly been paid for, it will command less trust than an article published independently in the media.
2. Stories:
PR's expertise is in developing ideas that are aligned to your business strategy, whilst appealing to your target media. Your media want stories that attract and appeal to their audiences. Achieving this fine balance is a skill that PR practitioners have finessed.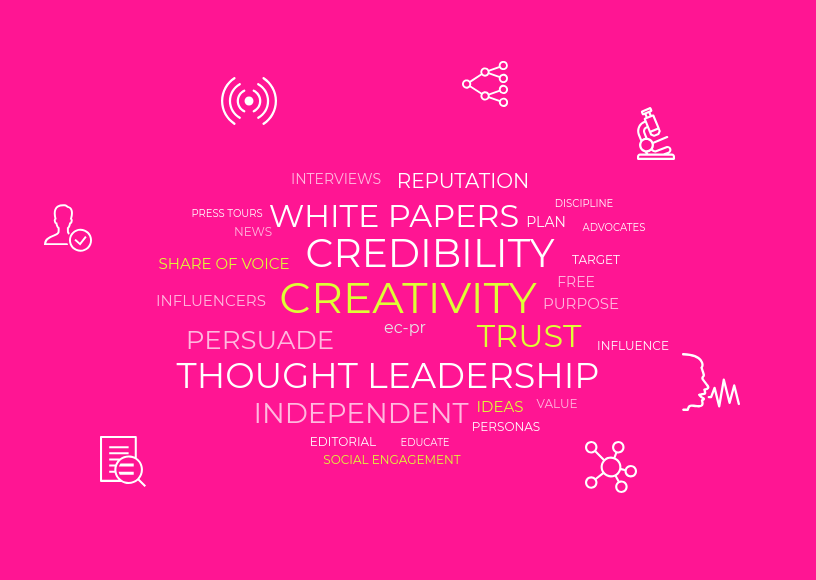 3. Purpose:
Advertising is single minded in its delivery in order to be effective and is predominantly a visual medium used to sell a product. PR on the other hand, takes multiple shapes and harnesses media channels to manage reputation and build relationships, often commercial, with your target audiences based on trust.
4. Independence:
The editorial team is, or should be, independent from the commercial arm of the business to ensure editorial independence and integrity. It is this independence which is so precious to you because it endows credibility on your brand by association.
5. No guarantees:
While you pay for the PR agency's time, there's no guarantee that coverage will appear – it is down to the editor to decide whether the material is likely to add value to the media channel or not. For this reason, communication with the editorial contacts should be transparent and focused while managing your expectation accordingly.
6. Engagement:
Journalists are looking to get ahead of their competitors, to get a scoop, so a story offered as an exclusive is more likely to appeal. A specific magazine or TV programme can be the first to 'break your story' but it can then be sent to multiple journalists thereafter, in order to maximize your press coverage. Your ad, on the other hand, will appear in multiple competitive outlets at the same time, single mindedly communicating its one key message.
7. Cost:
Traditionally, the cost of advertising has far exceeded the cost of PR both in terms of the development and implementation. Digital media and technology are starting to change this, but there is still a very long way to go. The primary skill that your PR company needs is to be able to present your message in a way that will engage and inspire the audience of your target media, through the lense of the editor.
Forbes takes a slightly different perspective but provides a useful comparison table highlighting the difference between advertising and public relations; if you study this table it may help you to decide whether advertising or PR are more suitable to your requirements: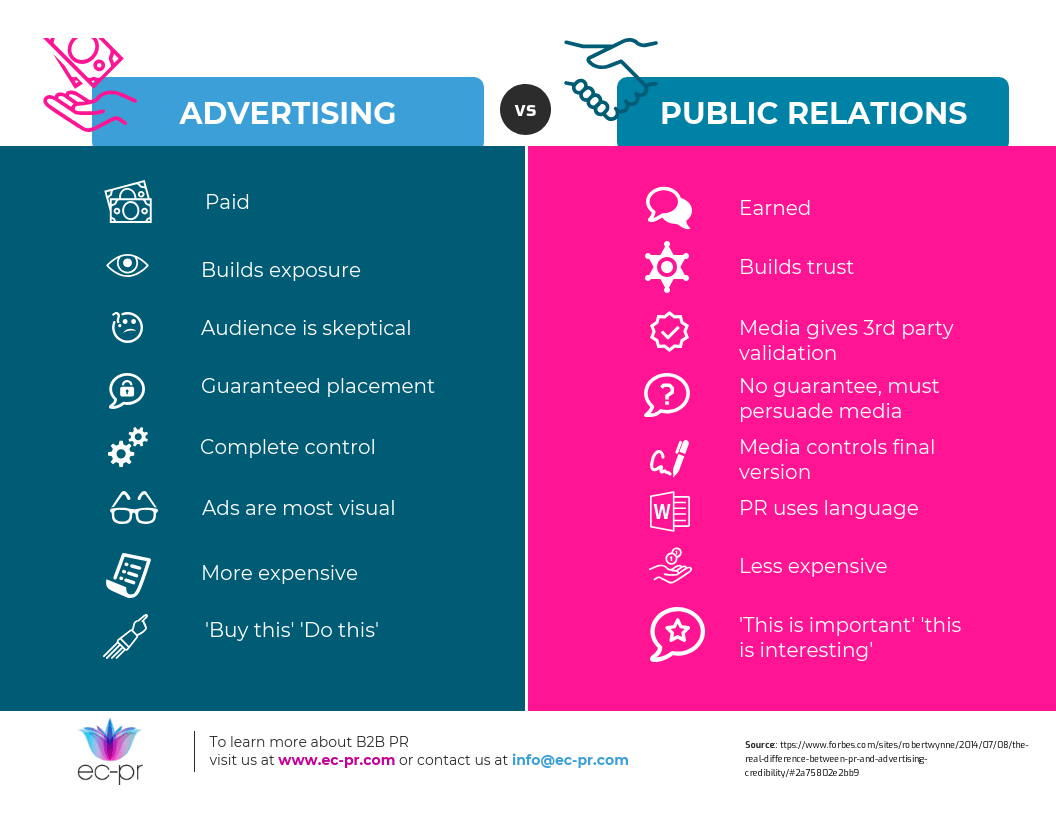 At ec-pr we are passionate about b2b communication. We believe your work is amazing and we want to help you tell the world how extraordinary it is. 
Get in touch.