How 2i found its voice - the impact of a communication strategy
2i Testing: Digital Quality Assurance & Software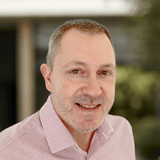 "If you had told me, at the start of this journey, that a business like ours, operating in our space, could have a USP I would never have believed you.  I would not have thought it was possible. But we do and we have, we stand out for all the right reasons.  That's remarkable."
BACKGROUND
2i is a successful assurance and testing business enabling large organisations such as Aberdeen Standard, Virgin Money and the Scottish Government, to successfully manage their digital transformation journeys through the provision of expert delivery knowledge.  This provision of expertise came in the form of either consultancy projects or people services – heavily weighted towards people services.
Challenge
Dave knew that 2i delivered really high quality service, but not enough client organisations in the market place were aware of the brand and it had no way of truly differentiating itself. He was already working to re-balance the business and build on its exceptional consultancy capability, however Dave was aware that the 2i brand needed to be clearly positioned both internally and externally to successfully achieve this goal. Dave recognised that a communication strategy could play a pivotal role in helping the brand to reveal its best version of itself and stop being a well-kept secret.
18

Benefits

of a


communication strategy
Three months after assurance and testing business 2i formally launched its communication strategy, we asked Managing Director, Dave Kelly, what impact it's had on business.
We have won

new business

Our tenders are

more persuasive

Prospects are

more interested

in what we have to say
Starting conversations is easier and we get to the

issue quicker

We are

clearly differentiated

from our competitors
Our

Leadership

is more clearly aligned
Our people are

more engaged

with the business and understand where they fit
We are

more consistent

in the way we all talk about 2i
We know exactly who we should be targeting

saving time and resources

We know what we should be saying to

secure interest
We feel we are now presenting the

best version

of 2i to the wider world
There is

less ambiguity

in our communication internally and externally
It has made

recruiting quality

people less challenging
Our external communications are

better aligned

Our LinkedIn activity is

more focused

We are

more visible, valued & understood

in our marketplace
Our engagement with clients to give them the focus they deserve has been

accelerated

The assets we are building are

future-proofed
SOLUTION
Through the facilitation of its Messaging Lab workshops and in-depth engagement with the senior leadership team, EC-PR developed a communication strategy which included six key components: the value proposition; bespoke delivery model, industry prioritisation; target personas; positioning statements and messaging. This strategy now forms the backbone, to inform and guide all business development and marketing communications moving forward.
To ensure the communication strategy is aligned with customers' perceptions, EC-PR also conducted validation research amongst trusted 2i customers. EC-PR helped the 2i team to evaluate its brand assets to determine what materials needed to be created or updated to communicate the messaging for each stage of the four stages of the buying cycle. EC-PR also facilitated a creative pitch to secure a branding agency. 2i then took the branding project on to the next stage – specification, appointment, and project management while EC-PR wrote all the brand assets. 
"You have offered us enormous value in getting us to this stage. When I think back to the lack of focus and structure that our message had originally to where we are today, for both our clients and our staff, it's been a game changer for us and massive thanks to you for that.
The delivery model, AssureRMF, has undoubtedly been the pivotal development. If you had told me, at the start of this journey, that a business like ours, operating in our space, could have a USP I would never have believed you.  I would not have thought it was possible. But we do and we have, we stand out for all the right reasons. That's remarkable."
Client background ResQ is the UK's leading contact centre specialist that helps organisations grow and nurture their customer base.The challenge Increasing brand awareness and recognising the achievements of its employees was extremely important for ResQ and so, it...
read more
Being in the right place at the right time… We will deliver feature length coverage to your target press… or your money back.