If you're considering a thought leadership strategy, you will understand the value of being acknowledged as a credible and authoritative industry spokesperson. You will also appreciate the competitive advantage of being at the top of the tender list because of the...
read more
Unforeseen circumstances have hit us all in 2020. Our guide shows you how to manage your PR in a crisis.
Stay up to date with the latest insights, case studies, and PR guides.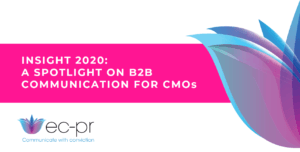 Insights 2020
 Free Report
Essential intelligence for B2B Marketers, when pressure is high and resources low.
About us

Emmett & Churchman Ltd is a private limited company registered in England and Wales.
Company Registration No. 10198832. Registered Offices: 5 Merlewood, Bracknell, UK, RG12 9PA.
Being in the right place at the right time… We will deliver feature length coverage to your target press… or your money back.
Follow us and share this: