B2B PR BLOG
Our PR blog is an extensive collection of helpful articles, PR news and expert views. It includes tips and advice on a range of PR topics to help protect and nurture your company's reputation. To complement our PR blog, we've also created a range of PR guides that are free to access.
Hiring a PR agency? Questions to ask before you sign up Before you sign a contract with any PR agency, we recommend that you ask these questions first. Ask upfront during the sales pitch and you are more likely to hire the right PR agency for your business, your...
read more
Integrated PR Guide
Three steps to supercharge your business in 2023 with integrated PR and marketing.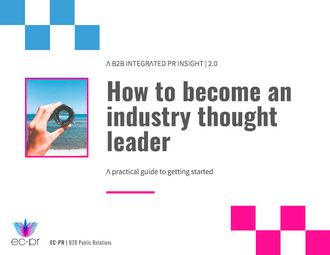 How to Become an Industry Thought Leader
TECH PR guide
Essential advice and tactics on how to do B2B Tech PR thought leadership.  Revised for 2022.
About us

Emmett & Churchman Ltd is a private limited company registered in England and Wales.
Company Registration No. 10198832. Registered Offices: 5 Merlewood, Bracknell, UK, RG12 9PA.
Being in the right place at the right time… We will deliver feature length coverage to your target press… or your money back.