B2B PR BLOG
Read our collection of PR news, views and helpful articles, providing tips and advice on a range of PR topics to help protect and nurture your reputation
Public Relations (PR) is a key component of the full marketing mix, and as part of your overall communications strategy, it's instrumental in driving brand awareness, recognition, and consideration - ultimately guiding more leads and conversions, whilst contributing...
read more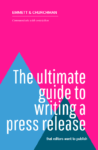 The ultimate guide to writing a B2B press release
Our expert B2B PR guide with 9 steps to creating a press release that editors want to publish.
Subscribe to our updates
Stay up to date with the latest insights, case studies, and PR guides.
8-STeP Communication strategy guide
A comprehensive guide to delivering your business goals using intelligent and relevant messaging.
About us

Emmett & Churchman Ltd is a private limited company registered in England and Wales.
Company Registration No. 10198832. Registered Offices: 5 Merlewood, Bracknell, UK, RG12 9PA.
Being in the right place at the right time… We will deliver feature length coverage to your target press… or your money back.
Follow us and share this: