B2B PR BLOG
Read our collection of PR news, views and helpful articles, providing tips and advice on a range of PR topics to help protect and nurture your reputation
One of the key questions we often hear is along the lines of "Why do I need to do PR?" or "What will PR do for my business?" and the reality is that there are so many benefits of PR, the list is endless, but we want to focus on the main PR benefits and so we've...
read more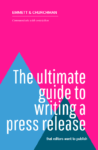 The ultimate guide to writing a B2B press release
Our expert B2B PR guide with 9 steps to creating a press release that editors want to publish.
Subscribe to our updates
Stay up to date with the latest insights, case studies, and PR guides.
8-STeP Communication strategy guide
A comprehensive guide to delivering your business goals using intelligent and relevant messaging.
About us

Emmett & Churchman Ltd is a private limited company registered in England and Wales.
Company Registration No. 10198832. Registered Offices: 5 Merlewood, Bracknell, UK, RG12 9PA.
Being in the right place at the right time… We will deliver feature length coverage to your target press… or your money back.
Follow us and share this: