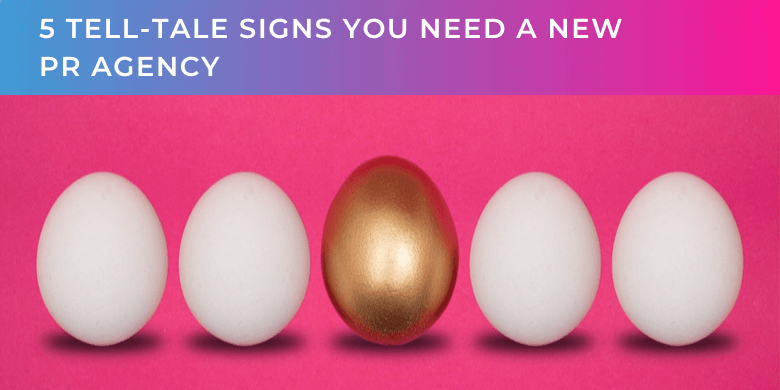 Is it time for a new PR agency?
5 tell-tale signs it might be time to upgrade your PR arrangements.
Investing in a partnership with a PR agency can be a big step up for B2B tech scaleup businesses, so it's important to feel confident that you're getting the biggest bang for your buck – after all, you don't have endless resource and bottomless pockets. Naturally, you want to work with a PR agency that protects and nurtures your brand and its reputation as if it's their own, but are you starting to see cracks appear?
Is there a nagging feeling deep down inside that's telling you the relationship isn't working anymore?
Here are 5 tell-tale signs that are sure indicators you need to take stock of the partnership and re-evaluate whether they are the right agency for you.
They're not being proactive; they just don't seem to 'get' you any more
Are you coming up with all the ideas while your agency just sits back and waits? This is one of the reasons why PR gets such a bad name. At EC-PR we're often told that we are proactive, inquisitive, and tenacious. This should manifest itself in several ways:
Delivering opportunities – sourcing, developing and creating opportunities for your business to contribute to relevant topics so your brand can be seen and heard.
Demonstrating leadership – staying on top of your industry news provides knowledge and insight to deliver proactive newsjacking and future contributions.
Being immersed in your business – your PR team should be constantly 'in your business', regularly talking to key spokespeople across multiple departments to identify and tease out ideas that have the potential to resonate with your target media.
Continuously tenacious – I was recently nicknamed 'The Terrier' by the CEO of a business we work with, and he thanked me for it. Given how busy CEOs and CMOs can be, it's important that the PR team are seen to be always driving things forward.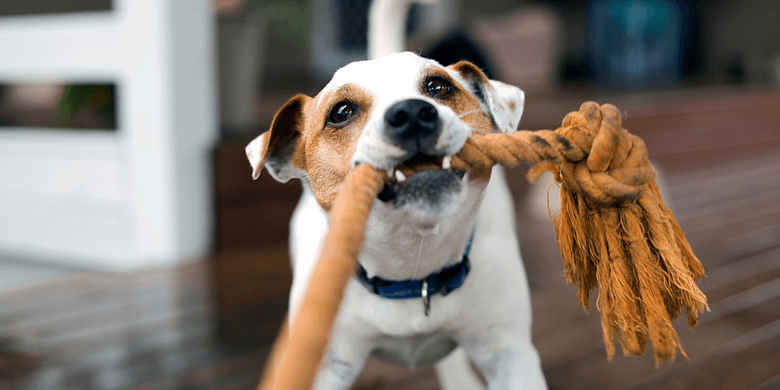 2

Their editorial promises are falling short; it's all a bit disappointing
If I had a £1 for every time this has come up when we've spoken to businesses who have been burnt in the past with PR, I would, without a doubt, be a millionaire.
Internally, we talk a lot about the power of 'orange smarties' at the pitch stage where PR agencies throw everything they've got creatively when they pitch and miss out the strategic bedrock – clients can be compelled by a mass of sugar-soaked, irrelevant, strategically-vacant creative ideas and miss out on the nutritious and essential Vitamin C. The sugary promises of mass social coverage in every media outlet (even those you're not even sure the target buyer consumes) is hard to resist. But, when it comes to delivery, it's tumbleweed, or worse you're asked to pay for placements, and you're then left wondering if it was just a wild dream. (Read our advice for CMOs and Marketing Managers: 9 Questions to ask before hiring a PR agency.)
As Client Services Director, I spend a lot of my time reminding our Account Directors of our mantra: 'certainty of PR delivery' and the importance of managing, meeting and working to exceed our clients' expectations. I believe this is why our clients trust and respect us – while we are ambitious and creative for our clients, we are always open, honest and realistic about what we can achieve. That way, no one is left feeling frustrated and disappointed.
It feels like your business isn't important to them
This is another reason why I would be a millionaire now if I was in fact, a betting woman! Did the agency bring out the 'big guns' for the pitch and you've now been passed to a junior member of the team? Or worse, you've invested a year into the partnership, and you've lost track of who your Account Manager is?
There is certainly some synergy with #2 here where PR agencies can get this really wrong sometimes. Sending in the senior team just to get the business over the line and then passing the buck to the junior team is a complete no-no. It leaves businesses feeling deflated and unimportant.
We don't have a B team. We have Account Directors, seasoned PR and comms experts, who deliver the campaigns and content with a small hard-working admin team supporting them.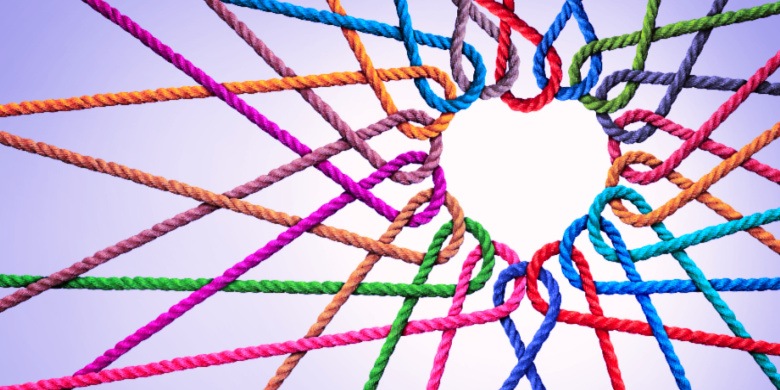 They don't practice what they preach
Social media has fast become an integral part of businesses' marketing strategies – particularly LinkedIn for B2B businesses. Are you following your PR agency's company page and are left feeling uninspired or questioning if they even have a strategy of their own? How can you feel confident that they will have the right expertise and skills to boost your own company profile and engagement?
We are firm believers in making sure that we practice on our business before we take anything to our clients. It's exactly how our 8-step guide to developing a communication strategy came to fruition. We did it to ourselves first which gave us the confidence to take it to our clients.
They're not strategic; the campaigns aren't rooted in our ambition
I'd like to think that gone are the days of PR sitting in their ivory towers and working in siloes but I fear this still does happen. Do you feel confident that your Marketing and PR strategy is fully aligned and integrated? Or, is your PR activity simply focused on a bunch of tactics that feel disjointed and don't fully support your organisation's commercial goals? If your PR activity is to have any impact, it must, must, must tie into your sales objectives. Whenever we present our PR funnel to prospects, it's incredible the impact it has. Why? Because it directly ties the possible sales challenges to the type of activity you need to focus on. For example, the challenge is that you're not getting enough quality leads into the top of the funnel – in that case, you need to increase brand awareness. That's where PR comes into its own and can have its greatest impact.
Thinking it's time to change or elevate your PR partnership for your B2B tech scale-up? Drop us a line today.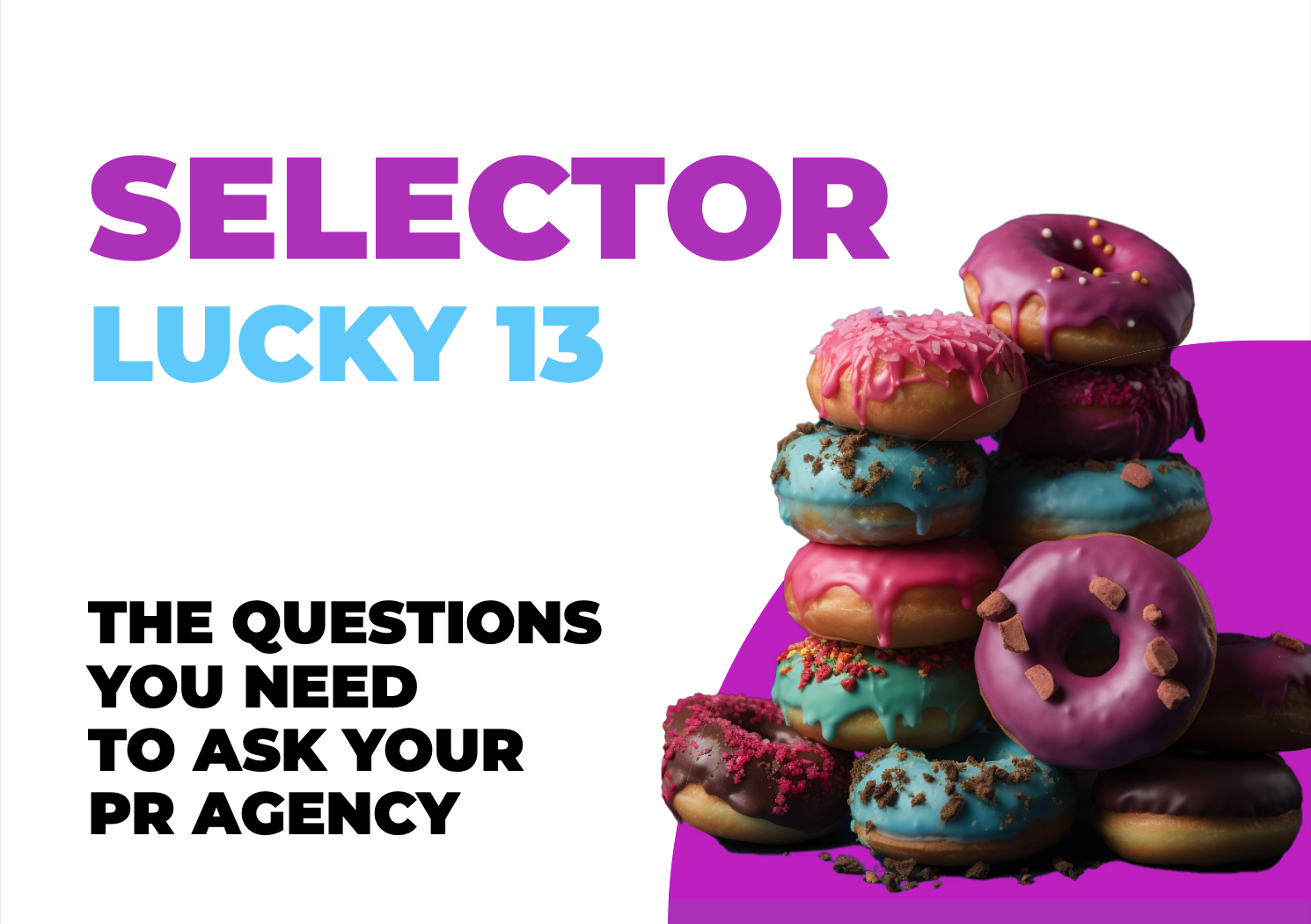 Questions to Ask a PR Agency
Download our SELECTOR Guide, comprising a lucky 13 questions to ask a PR Agency in your selection process.

Stay up to date with the latest insights, case studies, and PR guides.