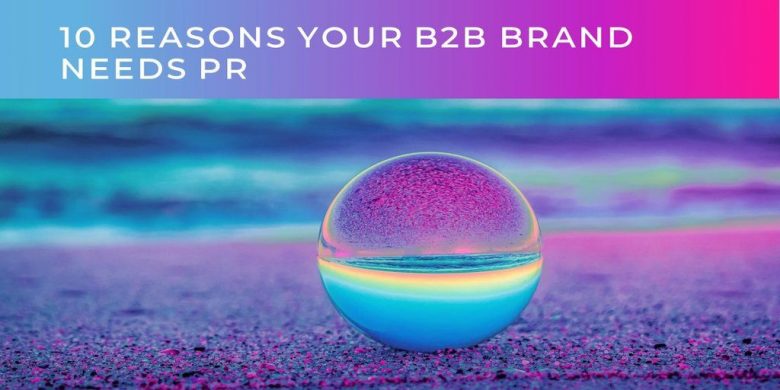 10 Reasons your brand needs PR
Depending on what stage of maturity your business is at, you will have different challenges, priorities, and drivers.  PR can amplify your marketing effort, protect and nurture your reputation, and extend the reach and impact of your investment. It can be used to help you address a wide range of specific objectives. Always aligned to your company's vision, mission and goals, PR is ever present and supremely agile.
Here are 10 key reasons why your company should do PR as part of your customer engagement plan.
1. Enhanced lead generation:
PR complements your marketing initiatives by showcasing your successes in editorial case studies.  It keeps you visible as prospects move through the buying cycle and into the sales funnel. And, PR provides the added benefit of providing independent third-party endorsement.
2. Improved stakeholder insight:
The process of developing your communication strategy and PR outreach brings you closer to your customers.  Engaging with customers to understand their buying methodology and rationale to develop articles provides valuable, actionable insight into customer behaviour.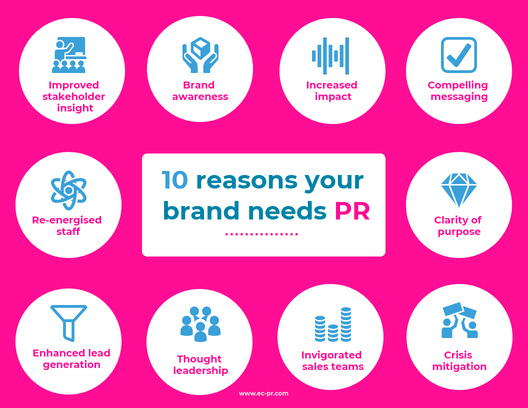 3. Compelling messaging:
Effective PR requires relevant messaging at each stage of the buying cycle.  The strength of the messaging is evaluated against the quality of the supporting evidence and relevance to your target audience.
4. Re-energised staff:
Targeted PR which is integrated with change programmes can mobilise workforces by giving them a sense of purpose, community, and boost in morale.
5. Clarity of purpose:
In order to be effective, PR needs clearly defined SMART goals.  The process of developing and executing these goals results in clarity of vision, purpose, and communications.
6. Invigorated sales team:
B2BPR will help build the morale of sales teams.  Seeing your brand receiving recognition in the media through press coverage for new business wins etc., instils pride and purpose.
7. Crisis mitigation:
A strong brand promotes loyalty which can help a brand survive a challenging trading environment. Crisis planning conducted during 'business as usual', will help you to identify potential areas of weakness which you can redress before any crisis hits.
8. Thought leadership:
Every business has something unique about it or it would never have been brought into existence.  Someone somewhere thought there was a gap in the market your company could fill. PR will help you harness your thought leadership with insight that informs, inspires, challenges, and engages your target audience.
9. Brand awareness:
PR builds a compelling relationship between your brand and your target audience – before your audience even enters the buying cycle. The key principles of any good PR strategy are to make you visible, valued and understood; delivered as part of a comprehensive communication strategy to drive consistency and impact. The outcome of which will provide you with a densely populated top of funnel.
10. Increased Impact:
By integrating your PR across all your marketing communications, you leverage your investment and increase impact. Every message delivered becomes a building block, creating layer upon layer of customer engagement, making the whole worth much more than the sum of its parts, in one cohesive, compelling brand.
So, you can see that the reasons to do PR are powerful – especially when you consider:
Whether you act or not, your reputation still exists out there in the market. You need to decide if you want to nourish and cultivate it, or leave it to chance.
As a result when you ask yourself: 'why do I need PR' or 'Is PR important' follow it up with the question:
'Does my company reputation matter?'
Your answer will tell you all you need to know.
At ec-pr we are passionate about b2b communication. We believe your work is amazing and we want to help you tell the world how extraordinary it is. 
Get in touch.
Stay up to date with the latest insights, case studies, and PR guides.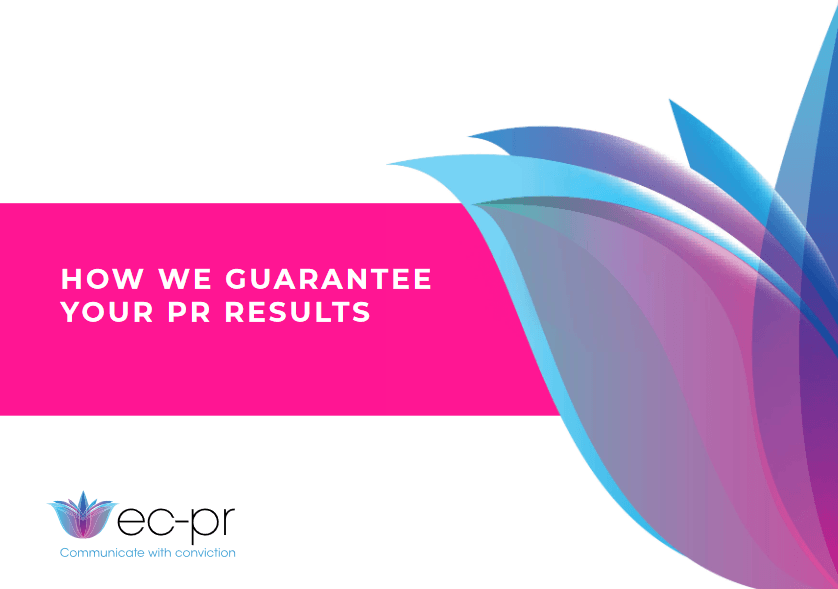 How we guarantee your PR results
Turbo boost your PR today and expand your ability to reach business goals.
Follow us and share this: