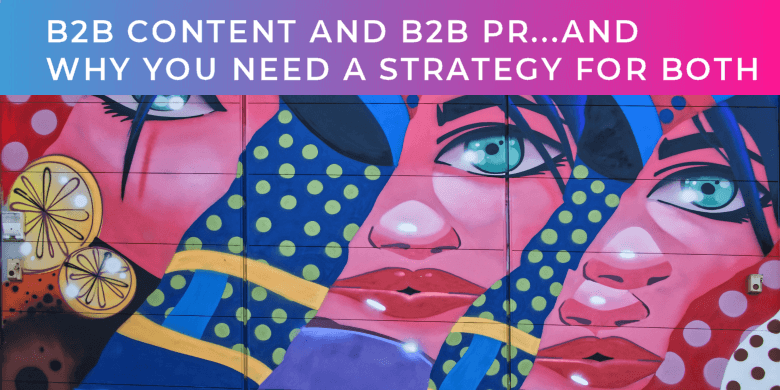 B2B Content and B2B PR…and why you need a strategy for both
You might be thinking that you don't need Public Relations (PR) because you've got it all sewn up with your content plans.  You could even be forgiven for thinking that PR and content are essentially two sides of the same coin and you'd be right; they are – and both sides are essential marketing currency.
The practice of content marketing is rooted in Search Engine Optimisation (SEO) while Public Relations (PR) is rooted in reputation management. The two are intertwined and both are critical for your business and your brand's success. Without PR, however, you may be surprisingly vulnerable.
What is content and what do you use it for?
Content is concerned with creating brand assets, over which you have absolute control, in order to grow your business online. Content is what you say about yourself.  It is brand.  You produce an article, video or podcast and you place it on your website, embed a link in an email, publish it on your LinkedIn profile and share it via your social channels.
Your content can be both objective and subjective, but you control it and you can control what it says and where it appears. Content is of significant and important value to your brand. B2B content marketing strategies are data driven; they are designed to amplify industry authority, boost search rankings, increase web traffic, drive social shares and generate sales leads.
Consider:
A brand with no media relationships and no profile suffers a cyber attack which results in all its customers (and some competitors who happen to be on their database) to have their details published on the internet. How well placed is the content team to defend the business?
What will customers say/think/do?
What will valuable leads say/think/do?
What will your competitors say/think/do?
What do you use PR for?
If content is what you say about yourself, PR is concerned with shaping what others say about you. It is about managing and nurturing your reputation. PR is concerned with contributing to the debate and influencing the things over which you have limited, or no direct control, to protect and nurture your reputation. You may craft a news release, but once dispatched to the press, you have no say over whether the story is used or how much of your story is published or, in what context.
You cannot put a value on third party endorsement in terms of credibility.
This apparent lack of control is what sometimes makes PR seem scary, but the value of positive third-party endorsement cannot be underestimated – this is why you pay PR experts to manage and develop this relationship for you. Your PR agent is well practiced in drafting your news releases, and longer articles, in a way that is relevant, appropriate, and compelling. They will distribute it to interested parties and develop relationships on your behalf to secure opportunities for you to provide thought leadership. Your PR will be responsible for crafting ideas for your articles and angles to debate with journalists who have an interest in your areas of expertise. You measure your PR by impact, share of voice and authority.
B2B PR strategies are value driven; they are designed to educate, influence, and persuade your target audience to engage with your brand in a positive way using third party endorsement and engagement. The Barcelona Principles are a sound place to start planning your PR – providing you with guidelines to measure the efficacy of your communications campaigns.
Integration is best to get better ROI
The two sets of expertise are tightly interwoven, and most PR firms will deliver both content and media relations programmes for you. The more you integrate the two sets of activities, the greater your impact and effect will be on your target audience. Your PR will amplify your achievements, your insight, and your brand by developing and leveraging relationships with the press on your behalf. As a result, PR will deliver favourable press coverage which promotes your reputation as a valuable business partner, a credible authority, and an industry expert. 
A business can survive without content. It may not achieve its full potential, but lack of content will not make it fail. A business that acquires a bad reputation, fairly or not, will fail (or dramatically stumble). If you protect and nurture your brand's reputation, you fend off the competitive weeds that prevent it from blossoming.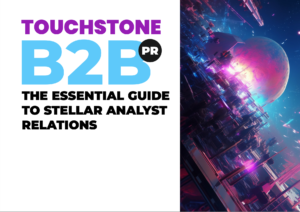 The Essential Guide to Stellar Analyst Relations
TOUCHSTONE B2B PR
Our guide to analyst relations helps you create mutually beneficial relationships with key industry influencers to help your firm grow.
Subscribe to our updates
Stay up to date with the latest insights, case studies, and PR guides.