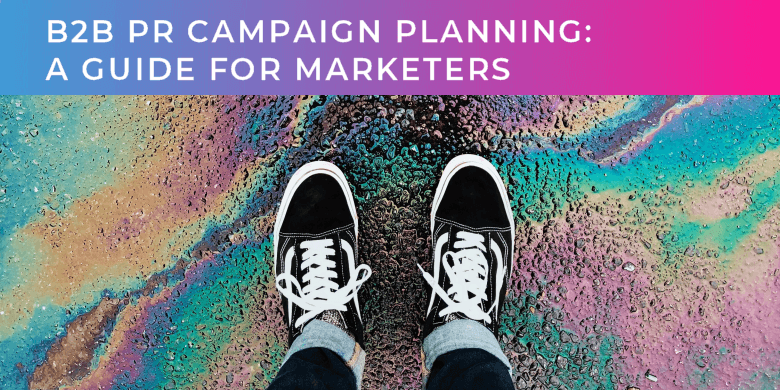 B2B PR campaign planning
Everything you need to know for successful B2B PR campaign planning
A PR guide to planning and executing your communication strategy for B2B Marketers.
The planning phase of any communication strategy should always begin with the initial task of setting out some clearly defined PR objectives which should be closely aligned to, and intended to achieve, the overarching goals of the business.
There are many PR goals your campaign may want to achieve, including those such as increasing brand awareness, promotion of a new product, more involved engagement, or simply having a bigger share of voice in the market.
Setting SMART PR objectives
The most effective model for setting out your goals is the famous SMART mnemonic – meaning your objectives should be Specific, Measurable, Achievable, Relevant, and Time-specific.
S
Specific
means that there is a single key result you want to achieve
M
Measurable
means that there is some way of measuring whether you have been successful in your goal
A
Achievable
means that it is realistic, given the resources you have at your disposal
R
Relevant
means that your PR objectives are aligned to the needs of the company
T
Time-framed
is ensuring the goals are achieved within a set timeframe, rather than having no end date in mind
S
Specific
means that there is a single key result you want to achieve
M
Measurable
means that there is some way of measuring whether you have been successful in your goal
A
Achievable
means that it is realistic, given the resources you have at your disposal
R
Relevant
means that your PR objectives are aligned to the needs of the company
T
Time-framed
is ensuring the goals are achieved within a set timeframe, rather than having no end date in mind
For more tools and tips on how to plan a successful PR campaign, you can download our definitive guide here.
Essential elements of a communication strategy
Once you have your PR objectives in place and all the stakeholders are agreed, the essential elements of a successful communications strategy should include the following: your value proposition, sector prioritisation, detailed audience personas, positioning statements and relevant messaging for each stage of your customers' journeys.
Your communication strategy, as detailed above, provides you with your overarching, strategic approach, whilst your campaign plan should flesh out the details of how it will be delivered, where and when it will be communicated and who will be responsible for delivering it.
 The component parts of a B2B PR Campaign Plan include detailing the following:
1

The customer journey
Every customer goes through what is called a 'funnel', or a customer journey, before committing to purchase from you. Their journeys and funnels may each differ in the length of time, but typically, there are four main phases to that funnel, each with corresponding messaging which will be captured in your communication strategy. You will use this messaging to create relevant and compelling campaign content. The four types of messages, reflecting the customer journey, are:
Customer journey
Engagement phase: where you're developing trust and authority.
Solution phase: Here you're building rapport and credibility.
Reinforcement phase: You're securing interest and preference
Value phase: you're demonstrating how their life will improve by using your product/service.
It's important to create campaigns for each stage of the funnel, to ensure you're meeting their needs at every point and drawing them down the funnel towards being a customer and hopefully a loyal advocate.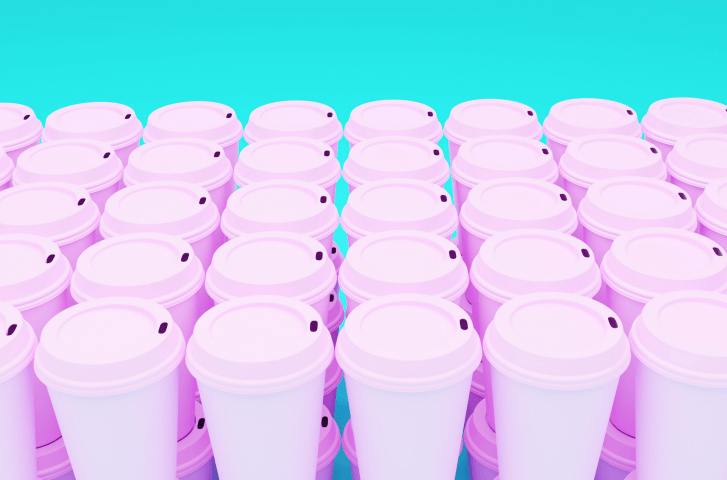 The marketing asset audit
Once you've completed the customer journeys of your personas, and identified the different touchpoints, you need to evaluate your marketing assets, in order to identify the gaps in those journeys and any areas where there's room for improvement.
A marketing asset audit reviews all your essential marketing tools and assets, to ensure that the relevant messages are visible and accessible to your target audience, via your website, sales presentations, LinkedIn profiles etc. These are your marketing assets. Any assets in need of development or refinement should be listed and prioritised, with a creative brief written, for them to be developed.
Using your ideal customer journey, map out all the brand touch points they'll encounter and review whether your company is presenting the best version of itself for each asset. Ask whether your organisation is presenting itself as professional, consistent, and cohesive?
Any brand asset surplus to the customer journey should be discarded, to keep your communication assets and tools consistent, focused and aligned.
Developing a target persona messaging map
The next stage of your campaign planning is to ensure the appropriate messages are served to the right person, at the right stage of their journey, in the most appropriate format.
Each stage requires different, relevant messages, based on their individual needs and challenges, whilst always being relevant, visible, and compelling.
Download an example template here
In our Definitive B2B PR Campaign Planning Guide we've developed an example template for you, which you can complete, to identify the assets you need to be able to communicate your messaging at each stage of the customer journey.
Once your list is complete, you should prioritise your marketing asset requirements, adopting a phased approach if there are budget limitations.
The plan: choosing your media channels and considerations
The most valuable point of reference in your communication strategy is where your target market 'hang out'. Where do they spend their time and go for their information? This information, which you should have collated, will guide you in terms of where your messages need to appear.
The four different types of media channels from which to choose from are paid, earned, shared, and owned; often referred to as the PESO model.
Owned media
Owned media channels are the channels that belong to your brand and include your marketing assets, website content, social posts and blogs. You have complete ownership of your owned media, so these channels should be consistent, on-brand and on-message.
Earned media
Earned media opportunities are the 3rd party opportunities you're given, to share your achievements, opinion or thought leadership. These are when you're being invited to contribute, as someone looks to you as an industry authority, who people will find interesting and engaging.
Paid media
Paid media are the channels you pay for, for your content to appear on them, such as digital advertising, radio, TV etc. The content is created and controlled by you, but it appears on channels your brand doesn't own or control.
Shared media
Shared media is a term referring to the share-ability of social media. With the whole world now online, a visible online presence is required in order for your brand to be valued and understood.
An integrated approach
At EC-PR, we're huge advocates of an integrated, 'converged media' approach, as PR is in fact media neutral. PR embraces any channel which helps to further a brand's reputation.
There are some strategic differences in how the Owned and Earned media channels should be utilised, and the brand benefits they can bring to your organisation, so each should be used according to what your objectives are:
Owned media is for your brand messages – what you say about yourself is communicated via your owned media.
Earned media relates to your reputation and this is what others are saying about you.
For each of these different types of media channels, there's a myriad marketing tools available to help you optimise your strategy and maximise your results.
5a

The content calendar
A comprehensive content calendar provides a framework for clear, consistent communications; helping to define content themes, key pillars and categories of content for your business, across the year.
It is a written schedule of when and where you plan to publish upcoming content. Typically your content calendar will include upcoming pieces including blogs and insights, status updates, planned promotional activity, partnerships, industry events and key dates as well as any updates to existing content.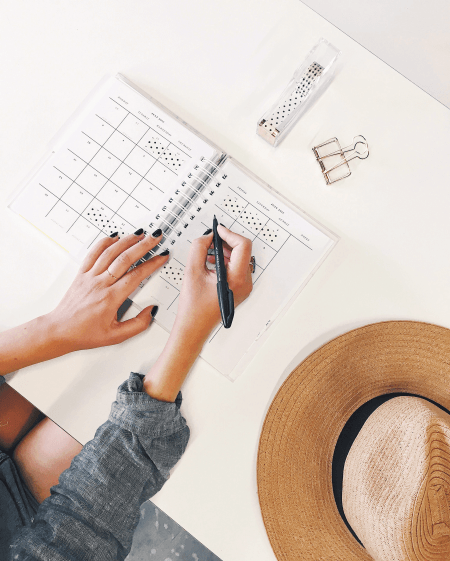 Your editorial narrative
At EC-PR, we deliver a Brilliant Ideas Bank to help develop creative and compelling editorial.
Your Brilliant Ideas Bank is a suite of strategically aligned ideas, to form the basis of editorial articles, to help showcase and share your company's knowledge and insights.
You should include subjects on which you wish to position yourself as the industry experts and authority, as well as strategic pillars that are fundamental to your business.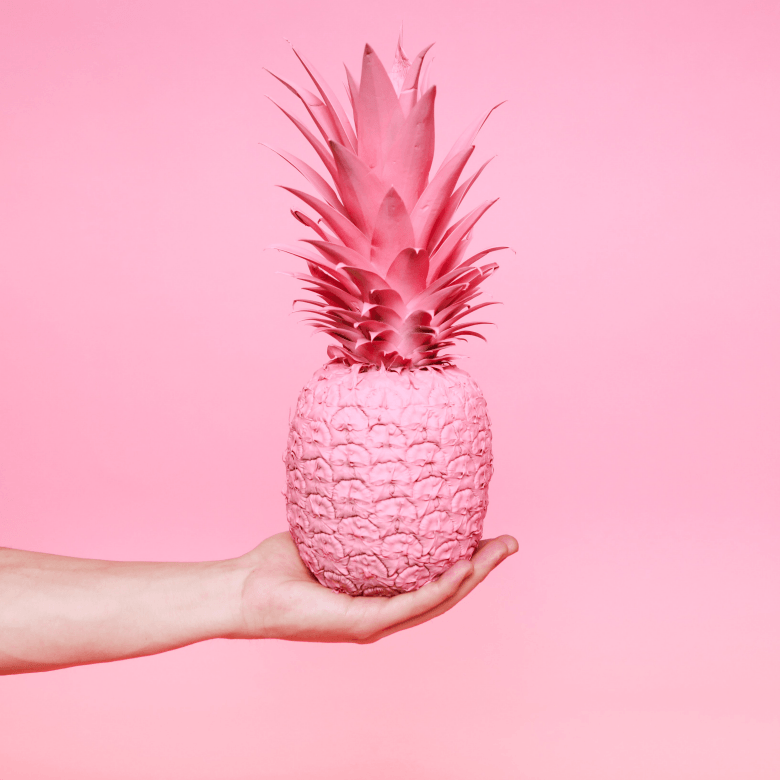 Now it's all down to the delivery!
By following this process you have equipped yourself with assets that speak to your target audiences and you will have a plan of engagement rooted in messaging that will appeal and inspire them. Your campaign plan has been designed to deliver your business objectives as specified in your communication strategy. Disciplined and methodical delivery of your plan will ensure you make strides to achieving your goals.
At EC-PR we are passionate about B2B communication. We believe your work is amazing and we want to help you tell the world how extraordinary it is. Get in touch.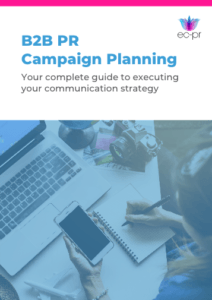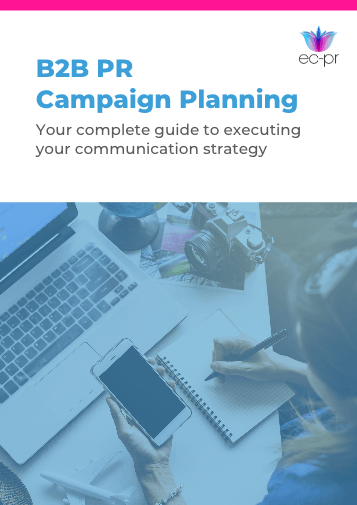 Your complete Guide to B2B PR Campaign Planning
Including valuable example PR campaigns, templates and tools.
Subscribe to our updates
Stay up to date with the latest insights, case studies, and PR guides.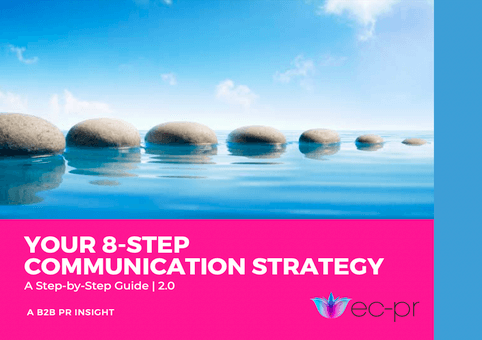 8-Step Communication strategy guide
A comprehensive guide to delivering your business goals using intelligent and relevant messaging.