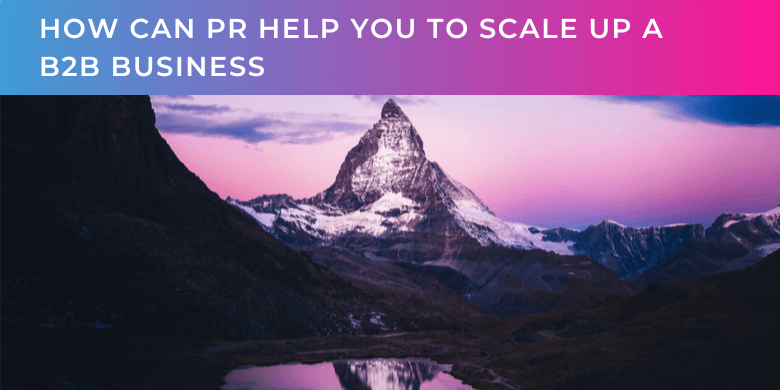 How can PR help you to scale up a B2B business
If you're getting ready to scale up a B2B tech company for the first time, then you're about to discover that growing a business is both exhilarating and nerve-wracking. There may be various reasons for scaling: perhaps you want to focus your efforts on growing your customer base, or you want to provide new and innovative products and services. You may be thinking of branching out into other markets and locations. Regardless of your reasons, scaling up can result in some growing pains which can be confusing and frustrating. Fortunately, PR is a tool that, when used wisely, can help you achieve your business goals and realise the growth and sustainability you're looking for.
Why you need a PR strategy to grow
Whether you are considering investing in PR for the first time or reviewing an existing strategy, investing in PR when you scale up will help your organisation in several ways:
1

PR can help scale-ups become known to new audiences
By using PR to increase brand awareness through media coverage in a new location or country, or media publications in a different industry, you will increase the likelihood of business success further down the line. PR is crucial for growing your company as it creates positivity and trust around your brand with new target audiences. Not many people buy from a company they've never heard of, but it takes time to become known – particularly in the crowded tech industry – and a robust PR strategy will solve this problem.
2

PR can help scale-ups build credibility
Organisations can find it challenging to build their reputation and establish themselves as thought leaders for new target customer personas as they scale. The more you talk about what problems you can solve for people, the more people will believe you. PR can increase your share of voice on a particular topic by putting your organisation first and foremost in your target audience's minds through earned media and allowing you to form a relationship with them.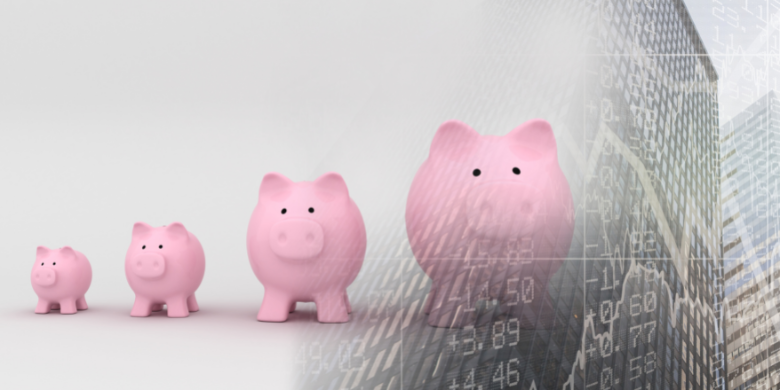 3

PR can help scale-ups with any size budget
Scale-ups often operate on a very tight budget so you will need to think carefully about how to spend your budget to get the outcome you want. It is worth bearing in mind that PR is a cheaper alternative to advertising for raising brand awareness and, in essence, increasing sales but we would always encourage you to consider an integrated PR approach to maximise your campaign outcomes and create an impact. This means being consistent with your messaging on all your PR and marketing channels as your target audience may hear about you on any of them.
4

PR can boost traffic to your website*
*Caution! Although it's true that articles and comments online can help towards increasing your company's/products/services SEO score, there is a right way and a (very) wrong way to go about your writing.
The right way is to think carefully about what messages will appeal to your potential customers and grab their attention. It isn't about how good your company is. Think instead about how your product or service will solve people's problems and address their pain points. You need to concentrate on your buyer persona (give them a name – it makes them more real!), consider what your message is to them and be honest.
The wrong way is to write for the search engine and stuff your content with keywords. This kind of content will appear fake and ill-thought-out with a message (if there is one) which doesn't resonate with your target persona at all. Plus, you risk your website being demoted by Google.
5

PR will get you noticed
Media relations forms part of any PR strategy but there are a myriad of companies vying for attention out there. There's no point saying the same thing as everyone else because journalists won't be interested and neither will your customers. Think about this instead: What sets you apart from your competition? What trends can you predict and what insightful data do you have to share? What is being reported that you don't agree with and why? Challenge what is being said and have your spokespeople throw a new perspective into the ring. Be bold and make a statement.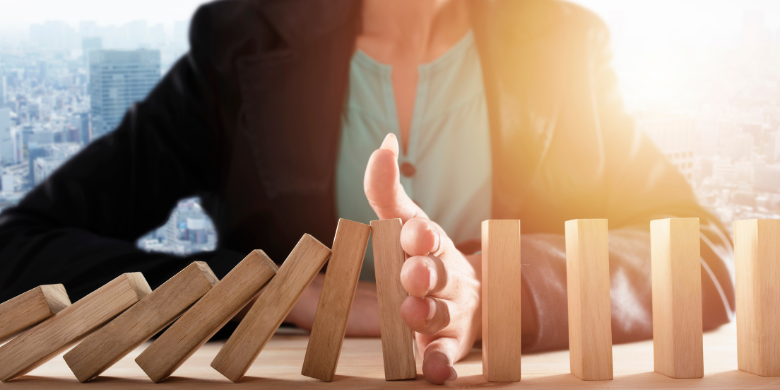 6

PR can help you in a crisis
If things go wrong or you slip up, a solid PR strategy will help your organisation in a crisis. Many scale-ups are so focused on growth milestones that they don't consider the impact on their reputation or bottom line if disaster strikes. As most companies will face a PR crisis or two throughout their lifetime, having a watertight plan in place right from the start to address a disaster situation is best practice. Effective PR will ensure you communicate your response effectively and put your organisation in a good position to move on without invoking too much damage.
PR is the key to scale up success
An effective PR strategy can be the cornerstone to success for scale-ups, connecting them to their target audience through consistent messaging across all channels to build brand awareness and credibility. We have been advising tech scale-ups on how PR can help them achieve their own particular business goals for years, for an examples see how we've worked holistically and flexibly with XTM International implementing its Tech PR Strategy. So if you're serious about scaling up your B2B tech business, drop us a line.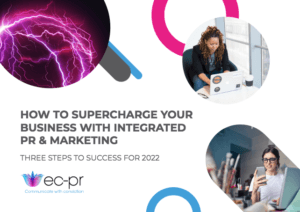 Your Integrated PR & Marketing Guide
Supercharge your business with integrated PR and marketing in 2022 with our three steps to success