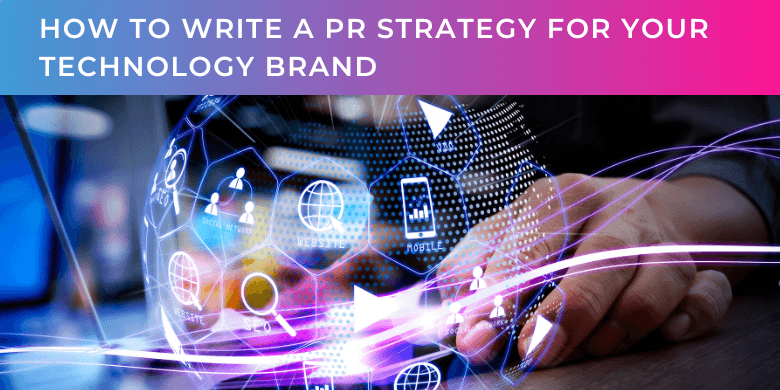 How to write a PR strategy for your technology brand
A PR strategy is essential for organising your PR activities and making strategic decisions about how to communicate with your target audience. There are some considerations for B2B tech companies to bear in mind when they set out to develop a PR strategy as they face some specific challenges when attempting to communicate with their target audience.
Why tech organisations need a robust PR strategy
Technology businesses infamously use a lot of jargon and technical terms so your focus must be on skilfully translating these concepts into higher level easily digestible language. You are the interpreter for the innovators, engineers, designers and developers in your organisation to help them speak to their target audience and convince them of the benefit of connecting with you. The breakneck pace of innovation in the tech industry can also make it challenging for tech companies to differentiate themselves from competitors. Overcoming that obstacle requires a robust PR strategy with industry-specific tactics and knowledge, making it possible for your organisation to maintain a high profile in an industry flooded with competition.
Let's now take a step back and look at what a PR strategy can help you achieve.
What does a PR strategy do?
A PR strategy helps build and strengthen your company's brand to convince your target audience of the value your company, products or services can offer them. It also helps with your reputation by building credibility and trust with your audience. After all, people are much more likely to buy from a company they know and trust, than one they haven't heard of before.
Your PR strategy will influence your sales and growth by keeping your sales pipeline full and healthy. If you aren't thinking long term with your PR strategy then once you've closed those few initial sales, there will be no prospects left to move along your sales funnel and convert to buyers. The technology industry has experienced huge growth recently – £29 billion in 2021 –  so you'll want to ensure your organisation isn't left behind.
Additional benefits from developing a PR strategy
It isn't just buyers that you should be thinking about at this stage. Your PR strategy has an impact on the candidates your organisation attracts to work there and also sends a message to investors. People want to be associated with and work for a company that they've heard positive things about so whatever you (or other people) are saying about you on social media or in earned media will affect your organisation. Technology companies operate in very fast-paced industries and there is fierce competition for talent which is not helped by the current technology skills gap as reported by Techmonitor.ai.
Now that we've looked at why you need a PR strategy, let's look at what you need to consider when writing it.
Do your research first
Crafting a successful PR strategy is a multi-step process that involves research and goalsetting before execution. In the first instance, doing some internal and external research is important to establish what factors might be having an impact on your brand such as industry trends, political and legal factors, solution or product changes, price increases, stakeholder or leadership changes etc. You should also do some competitor analysis to work out what your competition is doing and tools such as social listening can provide insight here.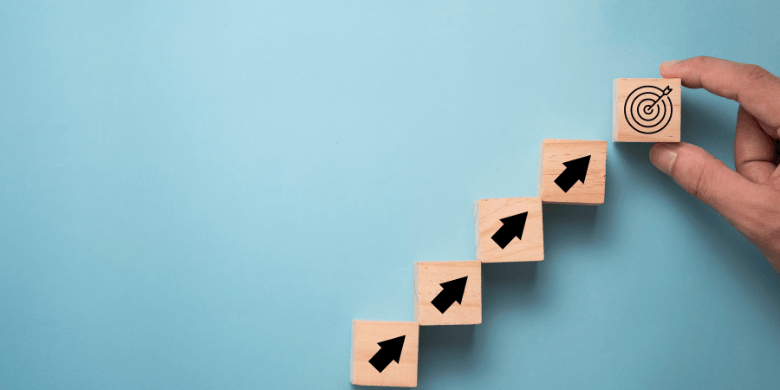 Set PR objectives aligned with organisational goals
Next, think about the objectives you are going to put in place. Your PR objectives are statements of intent that explain what needs to happen, what needs to be achieved, or where the brand needs to be for goals to be met. You may be looking to build stakeholder relations, enhance your brand reputation and attract media attention for example. Your PR objectives should be expressed in concrete, measurable terms and must be aligned with your organisation's goals. Make sure they are SMART – specific, measurable, achievable, relevant and time-bound – as then they will be clearly defined and based in reality
Select the tools and methods to communicate your message
Your tools and methods are the specific tactics you will use to help you build and maintain a relationship with your target audience to achieve your PR objectives. PR professionals have a wide variety of tools in their PR toolkit and you may want to consider blogs, newsletters, social media posts, press releases, whitepapers and attendance at events for example.  You should make sure that your tactics include both internal and external communications as keeping employees informed about what is happening to your organisations is important here, even for small businesses. It builds positive attitudes and commitment among your workforce as well as keeping employees up-to-date on new developments.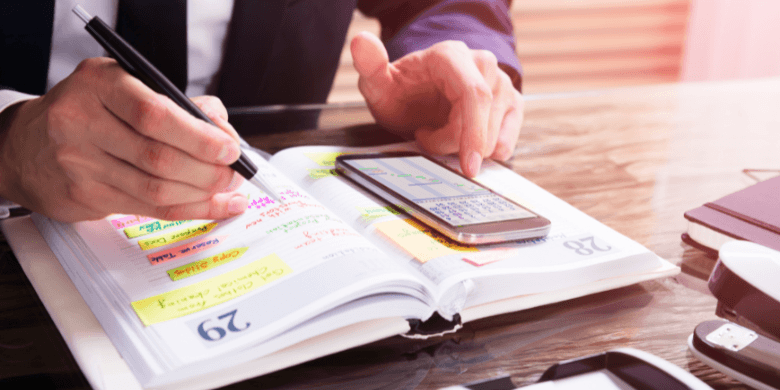 Managing scheduling and budgets
Once you've decided who you're communicating to and how, you need to think about when you will communicate your message. PR success relies on giving the right message at the right time, so create a calendar for all your PR initiatives. Make sure to note down public holidays and busy times of year such as the key events that your Tier 1 media will be likely to attend.
You also need to think carefully about your budget. Tech start-ups and scale-ups don't typically have huge PR budgets so you will need to carefully consider where your money is best spent to achieve realistic outcomes.
Measure your success
You will want to show the value and impact you're having by measuring your success to help you make improvements to your PR strategy. But how do you know what to measure to avoid wasting time pinning down numbers that don't properly validate your efforts? We would recommend referring to the Barcelona Principles 3.0 here devised by the International Association for the Measurement and Evaluation of Communication (AMEC). Following these 7 principles will help you be strategic, methodical, and accountable and focus you on sticking to a measurement and evaluation approach.
By following these steps, your PR strategy should help you cut through the noise and make your message stand. But if you feel you need any help, do contact us for a chat to pick our brains – we'd love to talk to you!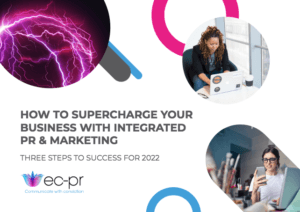 Your Integrated PR & Marketing Guide
Supercharge your business with integrated PR and marketing in 2022 with our three steps to success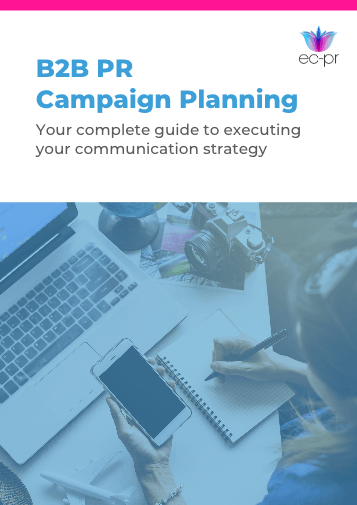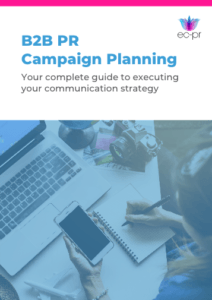 Your complete Guide to B2B PR Campaign Planning
Including example PR campaigns, content calendar templates, and audit checklists.
Stay up to date with the latest insights, case studies, and PR guides.