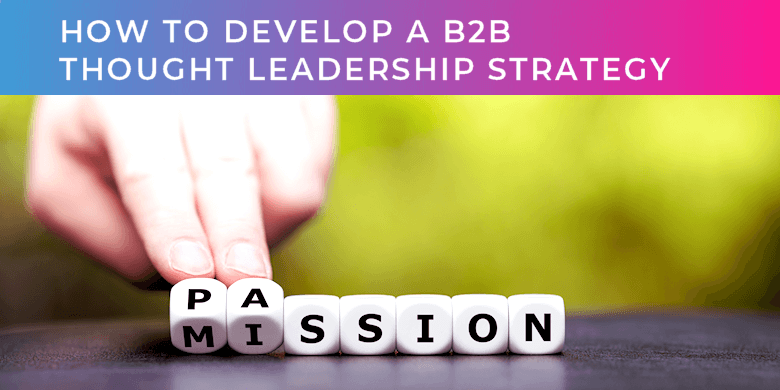 How to develop a B2B thought leadership strategy
A thought leadership strategy requires three things:
A subject matter expert who is articulate, informed and engaging, and unphased by public speaking.
A well-researched opinion on a relevant, challenging issue and a clear understanding of potential solutions, underpinned by evidence. All of which is captured in a single, regularly updated, central document.
A multimedia marketing schedule to launch, promote and give sustained visibility to the perspective, via written, verbal and video platforms, designed to get the thought leadership in front of the target community.
What is thought leadership?
In its simplest form, thought leadership is clearly articulated and informed insight from an expert which contributes to, or advances, a debate or understanding of an issue. That insight can be delivered in any format – written or verbal – through a white paper, article, speech, film, or media interview.
Thought leadership is usually issue-led and often relates to a complex subject matter.  This means it is most often associated with B2B, technical or ethical conversations.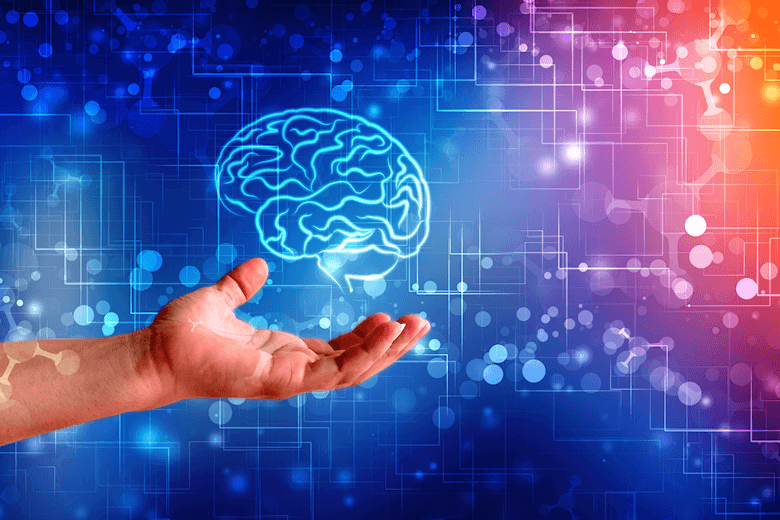 What role does a thought leadership strategy play in Public Relations (PR)?
Your thought leadership strategy plays a critical role in PR. At its best, should provide insight that moves a debate forward, while positioning the expert as visionary, knowledgeable and trustworthy.  Since PR is – the proactive management of information that educates, informs and persuades to advance the interests of the business –  your thought leadership should be an integral part of your PR and marketing communication strategy.
Can anyone be a thought leader?
Yes, anyone can be a thought leader if they are equipped with the relevant knowledge, insight, and communication skillset. 
A poor communicator, however, will never become a thought leader.  A thought leader is inspirational.  If someone is not passionate about their subject or finds the limelight distressing, they are less likely to evolve into an effective thought leader – no matter how much coaching you give them. On balance, a thought leader's subject matter passion will outweigh their fear of the limelight.
It is always worth keeping in mind that thought leadership is an accolade which is earned and awarded by peers and the addressable community – it is not a title that can be acquired lightly.
How do you identify a thought leader?
You can identify a thought leader through four crucial characteristcs:
They will be subject matter experts – search for #IdeasIntoGrowth on LinkedIn posts
They will be eloquent and authentic – their message is clear and easy to understand by the target community – consider Simon Sinek.
They will communicate with tenacity and persistence – consider Arianna Huffington.
They will share their expertise with genuine actionable insight, both freely and enthusiastically.
Examples of outstanding but very different thought leaders include Steven Bartlett the 27 year old CEO of one of the UK's fastest growing companies, called Social Chain; Arianna Huffington an author, philanthropist, television personality and owner of the independently liberal online news magazine, 'The Huffington Post and, of course, the teenager everyone loves to hate Greta Thunberg, the articulate environmental activist who is internationally known for challenging world leaders to take immediate action for climate change mitigation.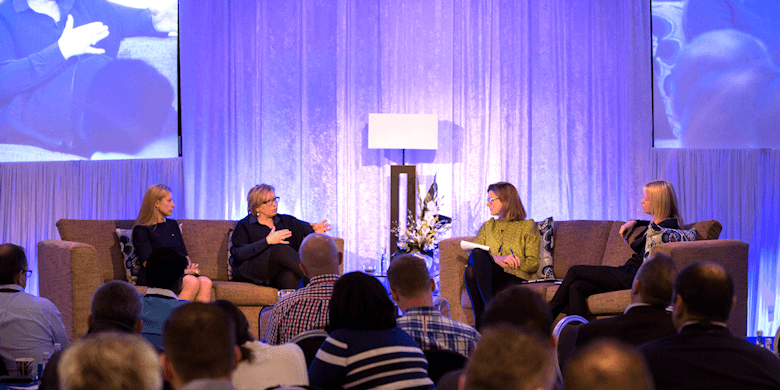 What is the difference between a thought leader and a social media influencer?
The main difference between a thought leader and a social media influencer lies in their perceived 'celebrity'. Thought leaders tend to be in the B2B domain where the sums of money involved, and duration of the buying cycle require careful governance and enduring relationships.  A thought leader may be paid a salary or a speaker fee, but they cannot be a thought leader without thoroughly knowing their subject matter and having an authentic message.  Thought leaders will be active on social media, but generally they need 'long form' engagement platforms because their subject matter requires it.
According to Influencer Marketing Hub: "Influencers in social media are people who have built a reputation for their knowledge and expertise on a specific topic. They make regular posts about that topic on their preferred social media channels and generate large followings of enthusiastic, engaged people who pay close attention to their views." They are valued by brands, usually consumer, because they can create trends and encourage their followers to buy products they promote.
Thought leaders are respected for their depth of knowledge while Influencers are generally admired for their celebrity.
Can one insightful article be thought leadership?
Yes, but one piece of thought leadership will not make the author a thought leader.  You need more than a message – you need a strategy, you need to be consistent, and you need to ensure your message is heard – repeatedly – or you will fail to make the impact your message deserves.
What is the difference between thought leadership and content?
The main difference between thought leadership and content is its perceived independence. Thought leadership will focus on issues – why they exist, where they come from and what their impact is on the community, business, and individuals.
Well-crafted thought leadership will explore a variety of possible solutions and provide a thorough critique of the pros and cons of the different ways of addressing a problem. There may be some preferences expressed but well-practiced thought leaders will lead the audience to water and let them work out if they are thirsty or not!
Any piece of communication which focuses on a business, it's method or solutions is unlikely to be thought leadership.  This type of content, which talks about your brand's features, is sales.
What is the value of thought leadership to business?
The value of thought leadership to business lies in the authority and credibilty it attaches to the speaker and the company they represent. To build trust with prospective customers, you need to show them that you are an expert in helping to address their problem.  When someone is struggling with something in business, the last thing they want to hear is a sales pitch. They want a respectful arm around their shoulders and to be told their problem is not insurmountable, there are many ways to solve their problem and you can offer them insight about all those solutions, so that they can make the best choice. This is what thought leadership provides – a platform upon which you can show off the depth and range of your understanding of their pain and how to remove it.  Thought leadership is about building trust.
What are the nine benefits of a thought leadership strategy?
There are many benefits to an effective thought leadership strategy.  Blaire Nicole writes on SocialMediaToday that there are five key benefits to thought leadership, but we think the list is more extensive, including:
1

Heightened competitive advantage
A clear position on a relevant critical issue that your community is wrestling with makes you stand out. This makes you worth engaging with to discover what you know as part of their due diligence.
2

Enhanced desire for business partnership
The fact that you have a clear view on 'all possible' solutions and their strengths and weaknesses, will make you a critical partner who can help them make the best decision for them.
3

Increased trust amongst your stakeholders
Sharing your expertise in an objective and informed way, underpinned by evidence, will increase your trust quotient. In B2B, your trust quotient is a critical factor in decision making and is made up of how you are perceived in terms of credibility, reliability, and assurance.
4

Greater brand awareness
The process of driving visibility for your spokesperson and the platforms they will deliver their talks and presentations from will give your brand heightened visibility.
5

Improved audience engagement
If you have selected the right issue and maintained stoic objectivity, thought leadership is the most effective way of filling your sales funnel – it is the air of independence which is so compelling.
6

Purpose-led content
'Content' and 'purpose': two buzzwords of our time which have all but lost their meaning – which is somewhat ironic. Thought leadership gives direction and meaning to your earned (editorial) and owned (web and blogs) media. You can use the structure of the thought leadership debate as inspiration to guide and inform all your marketing communications.
7

Higher perceived value
A business on a mission with clarity of purpose and the insight and evidence to back it up, has more perceived value than a business simply selling nuts and bolts.
8

Morale/loyalty
Customers, business partners, advisors and employees will experience the 'feel good' halo effect of having a recognised thought leader in their midst.
9

Brand differentiation
The impact of #1-8 in a crowded market – you do the maths! 🙌😁
Why does your company need a thought leadership strategy?
Your company needs a thought leadership strategy if it aspires to having a competitive advantage and is looking to release the potential of their brand. There are few companies that would admit they wouldn't want to have access to all the benefits described above.  Anything worth having requires work, commitment, and an objective-led plan.  Having a plan is the optimum way of ensuring you achieve your goal.  If you do not have a strategy to become a thought leader, it is unlikely that you will ever achieve that status.
What are the five pillars of a thought leadership strategy?
The five pillars of a thought leadership strategy which you need to consider to ensure it is focused and  relevant are:
Who are you speaking to? You should be able to visualise the typical member of the audience.
What problem of theirs you can solve? This needs to be something that they are unable to solve on their own, they will be looking for possible solutions.
What options are available to your target audience? Demonstrate a respectful and honest understanding of the pros and cons of those solutions.
Where does your audience go for their information? You will need to tailor your thought leadership to these channels to access and engage your audience.
Who has the expertise, charisma, and desire to be a thought leader in the target community?
What are thought leadership activities?
You need to create a waterfall of thought leadership activities which deliver, reinforce, and clarify your thought leader's position and provide in-person opportunities for the target audience to engage, question and experience.  These will include:
Whitepapers
Roundtables
Speaker platforms
Webinars
Editorial articles
Guest blogs
Media event/Q&A
Podcasts
How do you measure the success of a thought leadership strategy?

1

Share of voice in target media
Calculate how often your opinion is mentioned in target media compared with your top three or four competitors.
2

Track the data
Is the white paper being downloaded? Are people signing up to listen to and engage with your thought leader? What are the trends? Use feedback to enable your thought leader to update, refine and even refocus the core message.
3

Engagement amongst target groups
Track social reach and engagement through LinkedIn.
4

No longer the warm-up act
Your thought leader is the key attraction at an event. They are invited to talk and referenced in promotional material as the reason to attend. You no longer pay for the opportunity to present to the audience – your thought leader is the reason the audience is present.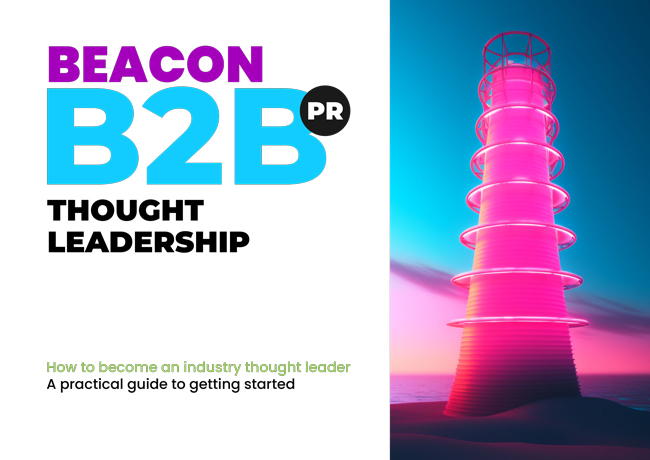 How to Become an Industry Thought Leader
Tech PR guide
Essential advice and tactics on how to do B2B Tech PR thought leadership.  Revised for 2022.
Stay up to date with the latest insights, case studies, and PR guides.