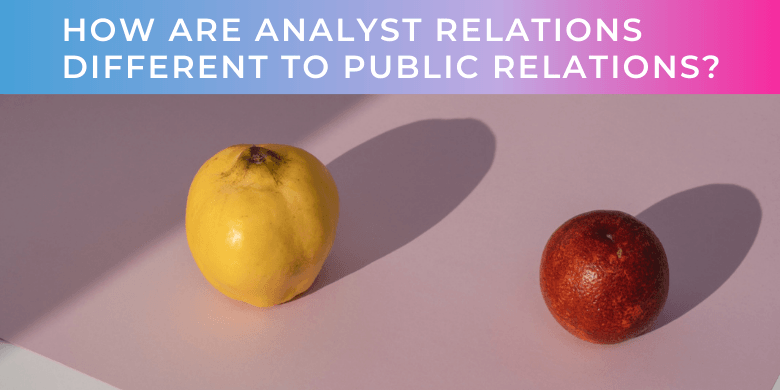 How Are Analyst Relations Different To Public Relations?
We briefly touched on the difference between analyst relations and public relations in a previous post but will now examine the differences a little more closely.
Our previous article concluded that there are lots of differences between AR and PR.
You may be wondering then, why we are bothering to discuss the differences at all if the two fields are so different?
Because AR is in the same arena as PR and is a service offered by some PR agencies or professionals, people want to know what the two have in common. There also tends to be some misunderstanding regarding activities or outcomes – especially amongst CEOs, CMOs, comms leaders, and marketing professionals.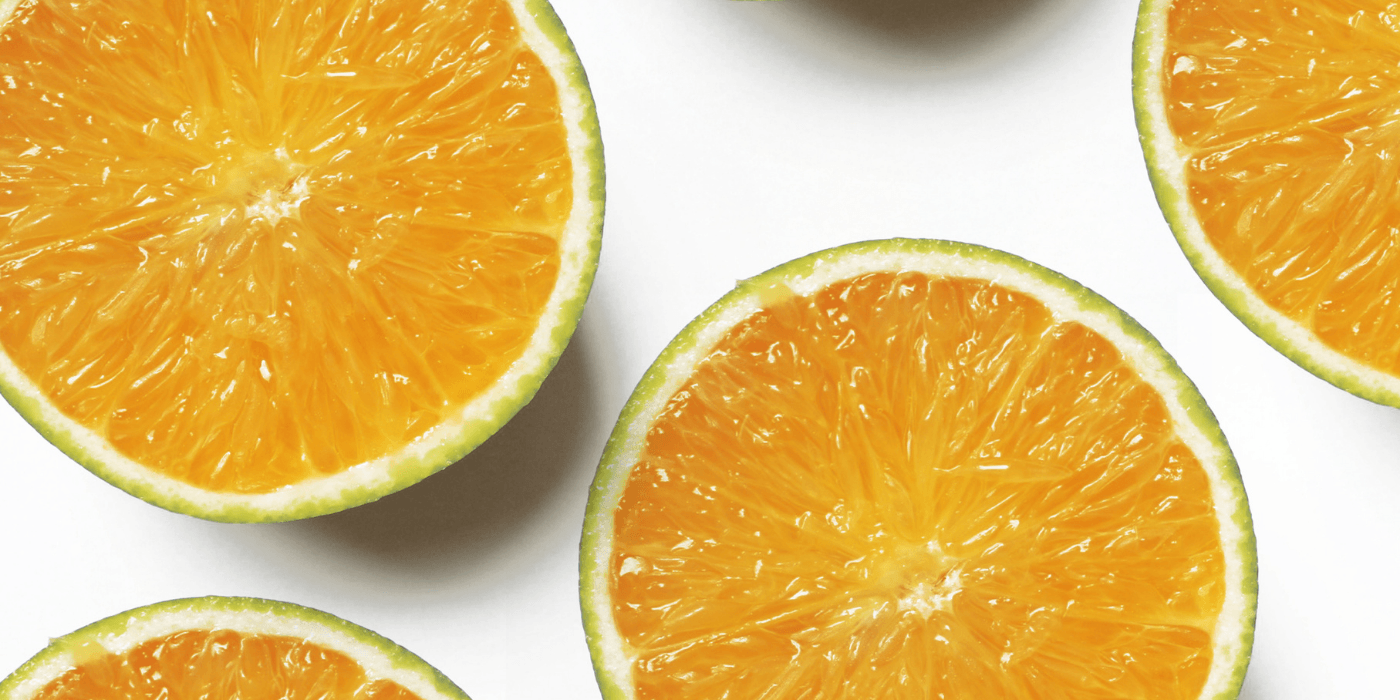 What do AR and PR have in common? 
The primary link between AR and PR is that both fields require many of the same skills needed to bring together an effective strategy or programme.
A PR professional will also be well versed in effectively communicating with others and cultivating mutually beneficial relationships – skills any AR pro will also have mastered.
A very simplified way to compare the two is to think of AR and PR as both being ways to communicate with an audience, albeit in two quite different ways and which is why PR best practices can't be confused with AR best practice.
According to our own AR expert, Alenka: "While AR and PR should certainly be aligned to deliver the desired communication outcomes, there are some pitfalls associated with copy-pasting PR best practices to the world of AR."
Let's take a look at the key ways AR is different to PR.

While AR and PR should certainly be aligned to deliver the desired communication outcomes, there are some pitfalls associated with copy-pasting PR best practices to the world of AR.
3 key reasons AR is quite different to PR
1. Analysts require facts and data
Although analysts will indeed need to be up to date with your latest news and developments, the channels, and ways you will deliver this are different to PR.
Analysts are not receptive to marketing messages – they will be looking to engage with you and your businesses executives to thoroughly understand, amongst other things, what your product or service does, how it is applied, your unique selling points, information on future developments, and strong proof points.
The messages crafted to sell products and services are not appropriate or useful to analysts looking to understand your business, and where you fit in the wider market and amongst vendors.
In a well-planned AR programme, relevant content and the substance of engagements is key to success. Whilst PR people might be used to delivering attention-grabbing, short messages, a seasoned AR pro knows analysts expect more.
2. The target audience
PR can target a wide-ranging audience depending on organisational goals, but analyst relations target a specific and quite small group of people…analysts.
This group is not only smaller, but they are looking to receive different information in a specific way and that information will be used in a different way.
As mentioned, analysts are looking for, amongst other things, information on your business, product data and information, product roadmaps, and information on how your customers are using your products and services.
Unlike a PR campaign, this information needs to be formatted in a factual way and through the appropriate channels. Interactions with analysts can take many forms from sharing presentations to holding an analyst briefing.
3. Measuring AR success is fundamentally different
AR is no different to PR in that if you are going to invest time and money, you need a way to demonstrate what you are doing is a successful and worthwhile activity for your business. However, AR goalposts and PR goals are vastly different. The timelines on which goals are achieved may also be much, much longer with analyst relations.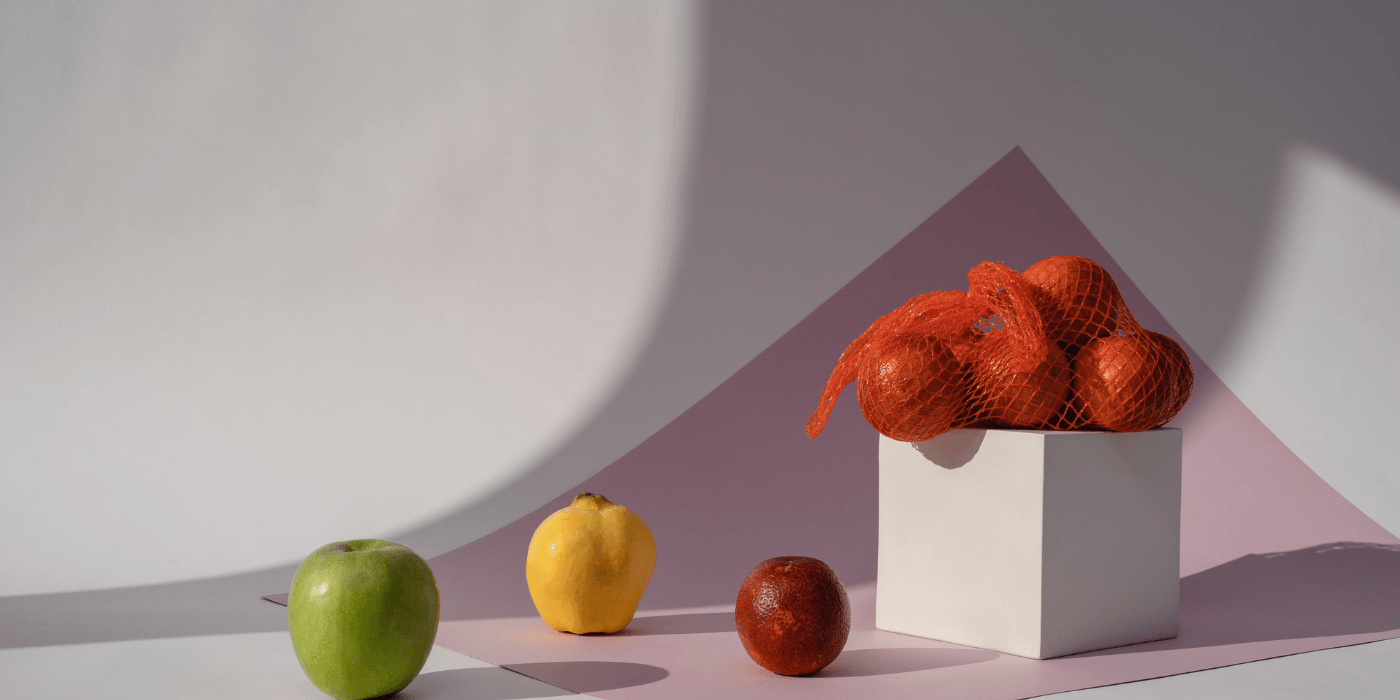 Adding Analyst Relations to Your Toolbox
It's never wise to put all your eggs in one basket. Having a variety of growth techniques will help you build the brand from several fronts at once, even through market fluctuations and other changes.
To start forming your analyst relations strategy, reach out to our specialists today.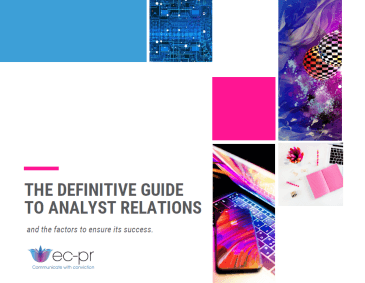 The Definitive Guide to Analyst Relations
and how to ensure its success
The Dos and Don'ts of Analyst Relations to help build credibility with industry influencers.
Stay up to date with the latest insights, case studies, and PR guides.