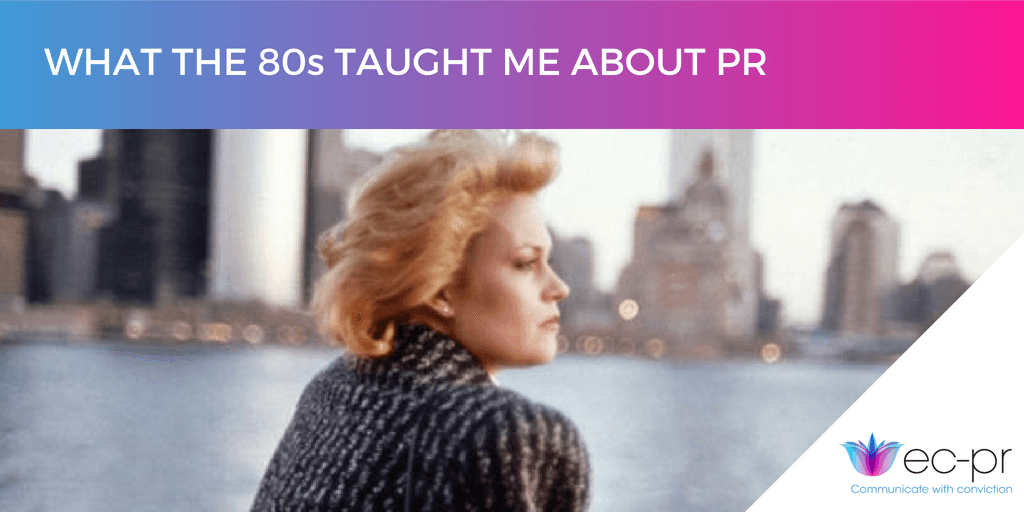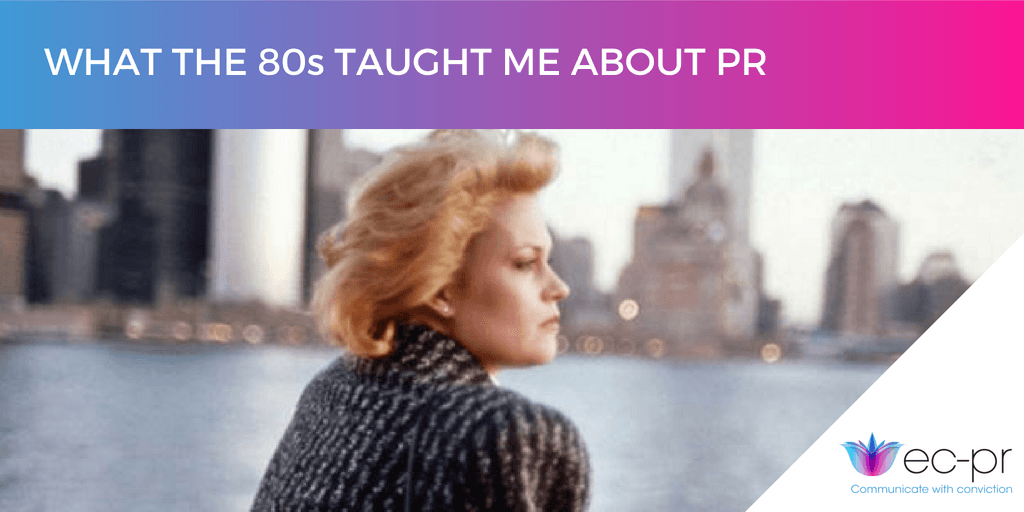 "What the 80's taught me about PR"
I spent the start of my career, the 80s, working in advertising, account handling campaigns for brands such as Birds Eye, Max Factor and Texaco.  It was a time of creative brilliance and financial excess.  A time when ad agencies acquired PR businesses and direct marketing companies and called themselves 'integrated'.
Integrated?  I'll let you into a secret. In reality, the ad people didn't speak to the DM people because they made all the money; the DM people didn't speak to the PR people because they were fluffy and lacked accountability and the PR people didn't speak to anyone who wasn't 'Someone'.
How times have changed!
Then, PR was all smoke and mirrors and little black books of contacts, rather than delivering tangible results.
I saw an opportunity to create an accountable PR offering which delivered against outcomes tightly aligned to the business vision.  Railing against the extravagance of consumer marketing, I decided B2B was the way forward.
Just before my 30th birthday, full of bravado and oblivious to the magnitude of things I didn't know, I boldly created my first public relations company. Against a backdrop of 80's excess, I defined our guiding principles: accountable, effective, evocative.
For reasons I now can't remember, my first customer was a security business, nothing so sexy as cybersecurity (it didn't exist!), we are talking kit; PIRS, control panels, cables and the likes, but it didn't matter.  The point was I was working directly with the European MD.  An engineer, with a vision, a P&L to deliver and a set of clearly defined objectives.  Working with him was exciting and rewarding because every day, week, month we would hear directly how the business was performing, where the problems were and we'd debate the best actions we could take to help him do what he needed to do.  We worked in tight collaboration and I loved it!
That client relationship was the start of my love affair with tech PR. I love delivering. I love brainstorming. I love finding solutions and I love delivering against them.  There is nothing more rewarding than working with clever, engaging people, and I'm privileged to have worked with quite a few over the course of my career.
MY LITTLE BUSINESS GREW
We attracted the technical companies who delivered lighting and sound to West End musicals and concerts, as well as major festivals.  I took briefs while sitting with lighting designers and sound technicians in the deserted stalls of theatres before or between rehearsals.
And then, eLearning was born and that became a focus for us too!  Different companies with similar problems, different teams with similar remarkable, focussed, smart people at their helm.  The objective was always growth, expressed in a variety of ways and with varying degrees of sophistication.
The effect of their differing requirements was that we developed services which we could deploy as required; communication audits, audience research, messaging, media training, as well as media relations, content creation and campaign delivery.
QUALITY CONTENT HAS ALWAYS BEEN A CRITICAL ELEMENT
For us, being able to write quality material that an editor can just run, without editing, was a key part of our offer. As the digital revolution unfolded, the quality of what was at the end of the link became vital.  Our focus on technical excellence, processes and service quality resulted in us winning Scientific Atlanta, a brand later absorbed by Cisco, who we worked with for eight years.
By this point, the feedback we started to get regularly from clients was that working with us delivered certainty; we do the job we say we're going to do: we make our clients look amazing by delivering phenomenal results, consistently.
Our clients, almost exclusively engineers, scientists and technologists, prefer order, logic and structure.  So, our processes and reporting procedures have a forensic like attention to detail.
I've learnt through experience that in the vast majority of cases, engineers prefer not to write.  In fact, in most cases they're not very good at it and they are smart enough to admit their talents lie elsewhere.  They also have little time or interest to invest in non-core activities – and marketing to a scientist is most definitely non-core.
So, we do what we do best, we simplified.
We developed an efficient process for abstracting intelligence and opinion from them fast; from this we can craft material that will make their organisations, ideas and capabilities visible, valued and understood.
AND WHAT OF THE FUTURE?
Having spent the last two years establishing my second business, Emmett & Churchman PR, I am excited for the future. The skills I learnt as an entrepreneur before that word became fashionable remain:
Our focus is on tech in all its forms.
* Productivity is critical.
* Delivering quality results with impeccable service is non-negotiable.
* Making our clients look amazing by delivering phenomenal results is what we do.
And, like those halcyon days back in the 80's we will seek out partnerships, mergers and acquisitions. But, only those that allow us to deliver the outcomes our clients desire.
Because in PR it's not about a little black book (it never has been), it's about you, our clients.  If you're looking to be visible, valued and recognised as the very best option in your market, call us.  You're in safe hands.  And fear not.  There's only a speck of that youthful arrogance remaining. It's been replaced by calm confidence and absolute certainty that our approach works because we keep on delivering exceptional results.
Interested in working with us? Email [email protected].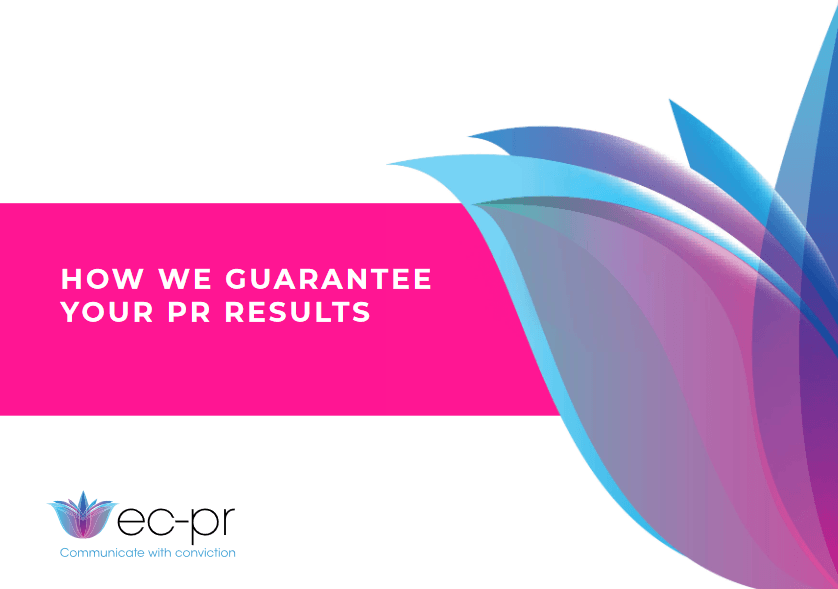 How we guarantee your PR results
Turbo boost your PR today and expand your ability to reach business goals.
Stay up to date with the latest insights, case studies, and PR guides.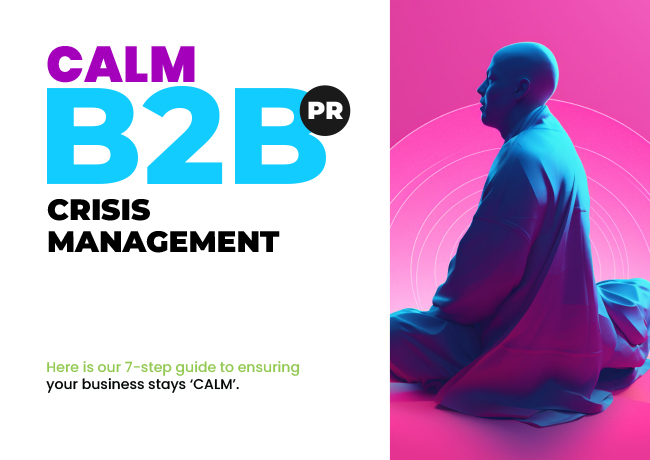 Unforeseen circumstances can hit us all. Our guide shows you how to manage your PR in a crisis.