BCB Group Conquers the Analyst Community
BCB Group is a leading crypto-dedicated payment services provider, serving many of the industry's largest clients including Bitstamp, Crypto.com, Gemini, Huobi and Kraken.
BCB Group provides payment services in over 30 currencies, FX, cryptocurrency liquidity, digital asset custody and BLINC, which is BCB's free, instant settlements network for the BCB client ecosystem.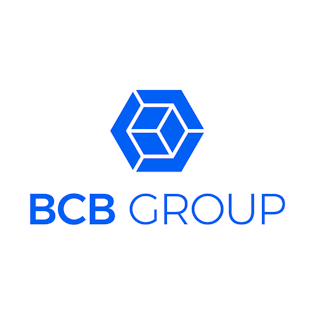 BCB Group Case Study
"EC-PR has introduced BCB Group to one of the most highly influential groups of people in the market – the industry analysts. The analysts now approach us when writing relevant content and reports, and have a good understanding of our unique proposition."
Sam Shrager
Executive Director, Marketing & Communications, BCB Group
Dangers and Desires
BCB Group was looking to raise its profile among industry analysts to strengthen its reputation in the market as the go-to crypto payment company for anyone from both the crypto and the traditional banking industry. It was also looking to leverage analyst relationships to gather feedback and insights from some of the sharpest brains in the industry to inform its strategic planning, product development and messaging.
BCB Group selected EC-PR due to its track record of working with some of the largest and most influential analyst firms as well as its robust approach to analyst relations (AR), including analyst training and measurement.
Design
Due to BCB Group being entirely new to analyst relations, EC-PR proposed a two-phased approach, starting with a comprehensive Foundations piece. The Analyst Foundations spanned an Analyst Training for BCB Group's executives, an Analyst Audit and a tiered Analyst List. The Analyst Audit was an in-depth survey of BCB Group's key target analysts on what they think about the organisation, its products, market performance, competitive advantage and the industry at large. Such insights proved to be a valuable piece of market insight for BCB Group.
Following the Foundations stage, EC-PR organised a broad introductory round of analyst briefings where BCB Group was introduced to the analyst community for the first time. The introductory briefings sparked several follow-up in-depth conversations centred around the analysts' research agendas or specific questions that analysts had about the company. The subsequent briefings helped deepen the relationships with some of the tier 1 analysts from major firms, including Gartner, Forrester and CB Insights.
EC-PR also developed, designed and distributed BCB Group's quarterly analyst newsletter, specially curated for the analyst community which also helped drive awareness and recognition of BCB Group amongst target analysts.
Distinction
BCB Group spoke to 29 analysts from 8 analyst firms in the first 12 months of the campaign, including firms as reputable as Gartner, Forrester, Aite-Novarica, CB Insights, Everest Group, and smaller firms who are very influential in the crypto space, such as Futurum and Opimas.
The newsletter garnered a fantastic average open rate of 28%, helping get BCB Group's message out to the wider analyst community.
BCB Group was featured in Aite-Novarica's Commercial Banking Fintech Spotlight where it was praised for ensuring 'robust compliance and anti-money laundering procedures that clients can benefit from to have certainty of payments coupled with the assurance that they are processed in a regulatory and compliant manner'.
Perhaps most importantly, throughout the 12-month campaign BCB Group was privy to feedback, insights and thought-provoking questions from some of the brightest minds in the industry.
"EC-PR's programme of analyst relations has provided us with a platform for engagements that have transformed the way we think about ourselves as a company and the way we talk about our proposition. Analyst insights have proved to be an invaluable source of intelligence and expertise," added Sam Shrager.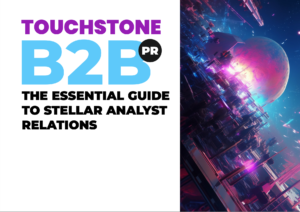 Your Essential Guide to Analyst Relations
Our complete guide to Analyst Relations will get you started forging relationships with industry influencers for long term mutual benefit.
Download
Are you a distinction-driven leader?
Let's boost your brand's reputation and recognition.
Subscribe to our updates
Stay up to date with the latest insights, case studies, and PR guides.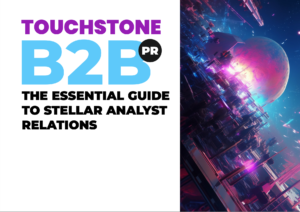 The Essential Guide to Stellar Analyst Relations
TOUCHSTONE B2B PR
Our guide to analyst relations helps you create mutually beneficial relationships with key industry influencers to help your firm grow.
Request a callback
Show your brand's mettle and grow it into its memorable, gorgeous potential.
Our Case Studies
We work closely with our clients to understand their unique challenges and goals, and develop tailored strategies that deliver measurable results.
Our case studies showcase a range of successful projects, including increasing brand awareness, generating leads, and establishing thought leadership in their respective industries.
Our experienced PR professionals have a wealth of knowledge and expertise, which they bring to each project, ensuring that our clients receive the best possible service. We use a data-driven approach to track and measure the success of each campaign, providing our clients with clear and transparent reporting.
Whether you are a start-up or an established business, our case studies demonstrate the value of effective PR and the impact it can have on your business.